Postal Station B, Ottawa, Canada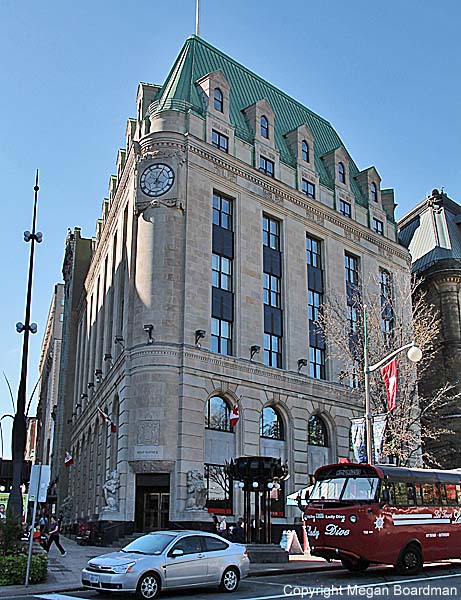 Architect

W. E. Noffke

Date Built

1938 - 1939

Location

Official Address 47-59 Sparks Street - the corner of the building seen above is at Elgin Street and Queen Street

Description


This building is the Central Post Office in downtown Ottawa, across from the National Arts Centre. Designed by the Ottawa area architect, W. F. Noffke, it is faced in Queenston limestone and features chateau style dormers set in a steep copper-clad roof. A clock is set high up above the corner entrance.





Customers enter through a set of bronze doors set within a frame that features a carved frieze displaying the crests of Canada's provinces.




Standing on guard on either side of the entrance are a pair of lions created by the aptly named, Coeur de Lion MacCarthy.





Postal Station B is listed in the register of Historic Places in Canada. In describing its architectural significance that register says that it represents, "... a very good example of the Classical and Château styles used in civic buildings during the 1930s. The building's roof was imposed by a political preference for large copper roofs, often in the Château Style, and its smooth stone face and minimal decoration reflect the simplified character of classicism during the early 20th century. Its very good functional quality is shown in the excellent craftsmanship and materials used in the exterior construction, as well as the rich treatment of the public spaces within. The building remains one of the best examples of the architect W.E. Noffke's work."

Close Window