Bow House - Former Poplar Town Hall, London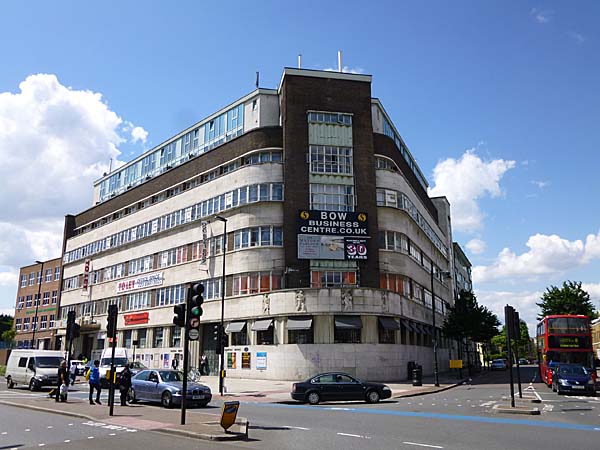 Architect

Culpin & Son

Date Built

1937-8

Location

159 Bow Road, Tower Hamlets

Description


In 2014 when I took these images, Bow House was home to the Bow Business Centre but it was commissioned in the 1930s to be Poplar Town Hall.





The original design was classical in style, but when the architectural practice of Culpin and Bowers dissolved,, Culpin and his son made radical changed that resulted in this building. At the time it was criticised for looking more like a factory than a town hall, but apparently Architectural Design and Construction described it as, "One of the most remarkable town hall buildings of recent times" and The Builder devoted five illustrated pages to its design.



Sitting at the corner of Bow Road and Fairfield Street, it resembles a ship's prow with a tall central brick tower rising up from a balcony decorated with five bas-relief panels.



The sculptures by David Evans depict the workers who created the building and include a welder, a labourer, a mason, a carpenter and an architect.





The building has a steel frame with reinforced concrete walls faced with bands of Portland Stone. The fourth floor is clad with the same brick used on the tower. An attic storey was added in the 1990s. There are long horizontal rows of metal framed windows.



On the Bow Road side of the building, above the councillors' entrance, There is a cantilevered concrete canopy balcony, apparently originally designed as a podium from which councillors could give speeches. Along the front and underneath are ceramic mosaics by David Evans. The one on the underside illustrates the industries of Poplar and the River Thames. Across the front are the arms of the Borough and child figures symbolising Art, Science, Music and Literature.






Close Window