Parisian Laundry, Montreal, Canada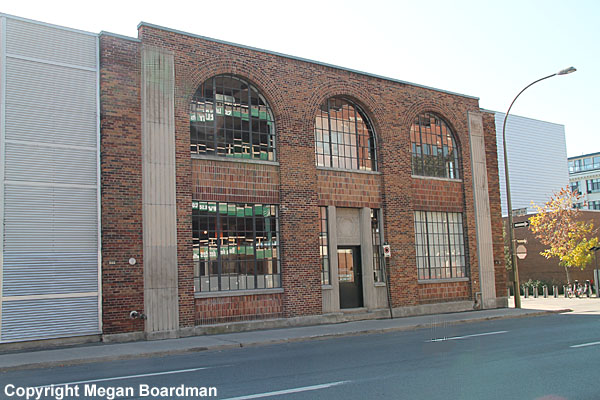 Architect

restoration: Julien Bélanger Carrière Architectes
Date Built

1935 - restored 2009

Location

3550 Saint-Antoine Street West
Description


This art gallery in Montreal occupies a former commercial laundry building that dates from the early 1930s. The Parisian Laundry operated here for over 50 years but in the years that followed there were a number of different ownerships and the building suffered along the way. In transforming this old building into a gallery for the 21st century, the owner and the architect made sure that the integrity of this old building was preserved where possible and restored where necessary.

The "www.operationpatrimoine.com" website says of the building that, "... Its architecture is quite different from that which was typical of the early 20th Century, because of its generous fenestration on all four sides. In 2000, after being abandoned for a number of years, the building was purchased by Nick Tedeschi who planned to restore it and fully develop its potential. .... Tedeschi's vision was a beacon in this project and ruled all the interventions on the building. The restoration was done with the utmost respect for its historical and industrial character. The decision to preserve the "Parisian Laundry" name, sculpted on the Art Deco portico, is true to this line of thinking. ....






.... Simplicity was the keynote chosen to fully enhance the original architecture's character. This simplicity translated into every choice and intervention and restricted the range of materials to wood, masonry and steel. Overall, the modern interventions are clearly perceivable and their sobriety is in keeping with industrial architecture aesthetic."


As a result the Parisian Laundry Gallery is, according to the "egodesigns" website, "A gallery space that's pleasing to the eye .... a welcoming space where the ambiance varies according to the day's rhythm. During the day, the interior feels much larger, as it is open to the street on all sides, which intensifies the feeling of exposure. At night, it is the exterior that appears transparent and open. A little gem of urban conversion, this gallery stamps the cityscape with a unique imprint."

Close Window