Paramount Cinema, Glasgow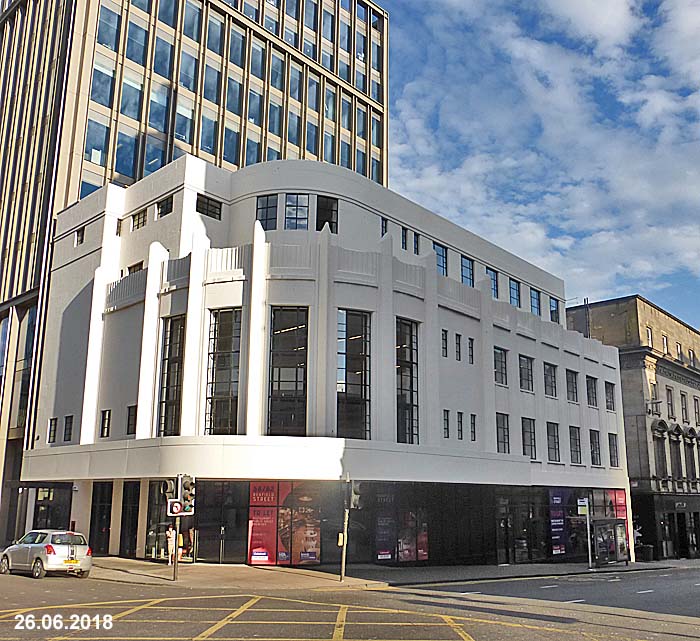 Architect

Frank Verity and Samuel Beverley

Date Built

1934

Location

Corner of West Regent Street & Renfield Street

Description

This building on the corner of West Regent Street and Renfield Street in 2018 looks like an art deco cinema and that is exacly what it was. Was is the appropriate word though because now it is known as The Reel House and it is an office building. It started life in 1934 as the Paramount cinema one of a fleet of super cinemas built around Britain by the American company Paramount. It had seating for 2,800 and featured a canopy that was probably designed to add some shelter to customers queueing for tickets. In 1939 it was sold to Odeon and under the name Glasgow Odeon operated as a cinema and hosted live shows including concerts by the Beatles, Jimi Hendrix, Bob Dylan, Dusty Springfield, Johnny Cash and the Rolling Stones.

The Scottish Cinema website explains that, "... In 1970, the cinema was closed for a year and comprehensively remodelled. This involved stripping almost all of the Italianate interior out and creating 3 screens - one in the former balcony extended fully forward, one in the former stalls (both seating around 1100), plus a smaller screen in the former stage area. This latter screen, seating 555, was formed over two levels, with a small balcony, and had a seperate entrance to the side of the building. The foyers were remodelled too, with the double height sections being floored over, and the main staircase realigned." The Odeon continued to operate until finally closing its doors on January 7, 2006.

In June of 2018 the scottishconstructionnow.com website published a story about the old cinema. It said that, "... The iconic Art Deco cinema on West Regent Street in Glasgow has found a new lease of life as commercial office space following a complete renovation. The Odeon cinema, .... has been rebranded as The Reel House and converted into four floors of Grade A office accommodation. The property, which also boasts an extensive third floor balcony, was purchased in 2016 by Carrick Properties."



Close Window