Odeon Covent Garden, London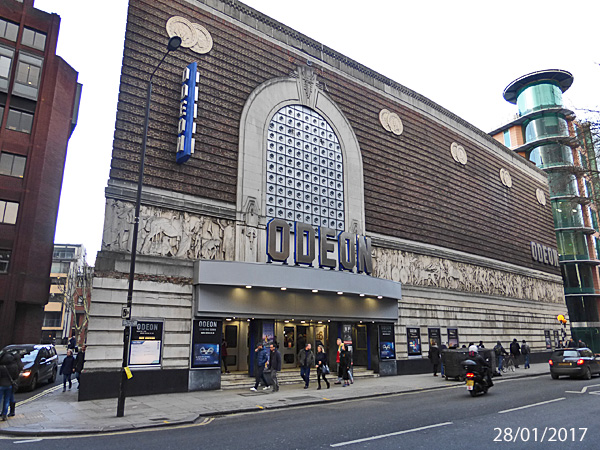 Architect


T P Bennet & Son

Date Built

1931

Location

135 Shaftesbury Avenue

Description


When this building opened for business on Octoiber 8, 19321, it was called the Saville Theatre designed in art deco style by T. P. Bennett & Son wiuth Bertie Crewe as the consulting architect. It had a seating capacity of 1,185 with an orchestra stalls section that was below street level, a dress circle and an upper circle as well as two boxes on each side of the proscenioum arch. The cinematreasures.org website has an interesting article about it explaining that, "... The exterior of the building is in textured brick and has as its main point of interest, a bas-relief freize by sculptor Gilbert Bayes. Measuring 129 feet in length, it depicts 'Drama Through the Ages' with representations of 'St. Joan', 'Imperial Roman Triumphal Proscession', 'Harlequinade' and 'War Plays' etc. Sections of this frieze were displayed at the Royal Academy in 1930-1931, prior to their installation on the building. Along the top of the facade are a series of plaques, again sculptored by Gilbert Bayes, which represent 'Art Through the Ages'." It was the last of the "live" theatres to be built on Shaftesbury Avenue and in its day saw performances by "... Cecily Courtneidge, Fred Emney, Richard Hearne, Bobby Howes, Evelyn Laye and Laurence Olivier " During the 1960s it was the venue for a number of concerts by bands such as the Jimi Hendrix Experience as well as Chuck Berry, the Rolling Stones, Cream and the Bee Gees.



In the 1970s ABC bought the Saville and converted it into a twin-screen cinema. In the years that followed it changed hands, first to the Cannon Group and then back into the hands of ABC, before being taken over by Odeon in 2000. They renamed it the "Odeon Covent Garden" and reconfigured it into a four screen cinema with capacities of 148, 269, 167 and 156. The building is Grade II Listed.


Close Window