McCann London, UK

Open House London information about this Grade II Listed building describes it as, "... one of the best Art Deco examples in London today," adding that it is, "... a perfect example of streamline moderne. Its architectural style emphasised curving forms, long horizontal lines, and sometimes nautical elements."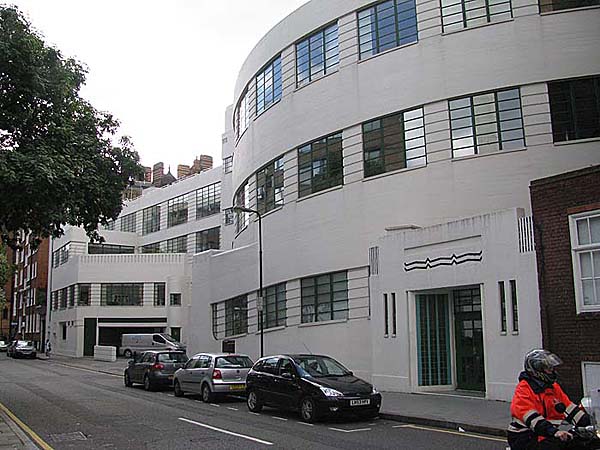 Architect

Wallis Gilbert and Partners
Date

1931

Location

Herbrand Street, London WC1

Description


This building started out life as a Daimler car hire garage. It was designed by the architectural practice of Wallis Gilbert and Partners who were also responsible for a number of other high profile art deco building such as the Hoover Factory and Victoria Coach Station. After Daimler left the building it had a number of functions including a parking garage for the London Taxi Centre and station for the sightseeing coach company Frames Rickard.



The Open House London website explains that,

"... Its purpose as a garage for the automobile and the necessary ramps allowing cars access to the upper levels are clearly visible from the facade. The sloping ramps of the northern block are reflected in the curved walls and angled horizontal windows."

The entrance to the garage, and the ramp that took cars to the upper floors, can be seen below beneath the McCann sign. Today it is closed off with a large window and revolving door entrance.




"Between the ramps the central core of the building provided parking on four levels. Here taxis were serviced and washed while their owners relaxed in the canteen. A central stair tower gave pedestrian access to the upper floors. ...



... In October 1998 work began to begin to remodel the interior into offices with an additional fourth floor on behalf of McCann London, which continues to occupy the premises. The reception area is situated in an atrium which rises to a toughened glass roof through which the sky is visible.




"On one side there is access to the semi-basement which now contains the staff canteen and audio and visual studios and on the other the spiralling ramp which was a roadway for vehicles now contains work spaces and stairs to the extensive open plan offices on the upper floors. .....





.... A roof terrace between the third and fourth floors is used for meetings and community events and looks out towards Marchmont Street to the east and St Pancras to the north."



Close Window