Vue Cinema, Royal Leamington Spa, UK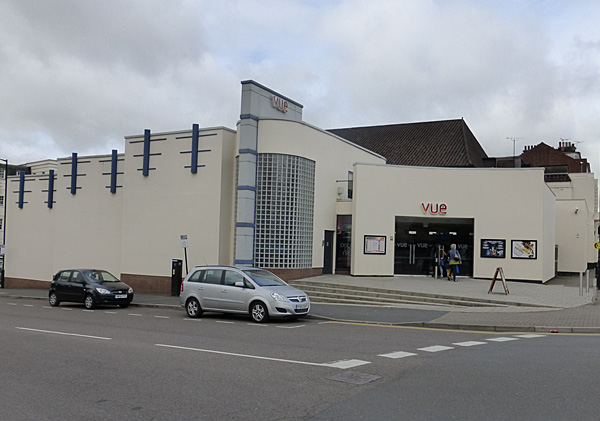 Architect

Horace G. Bradley

Date Built

Opened September 14, 1931

Location

Dormer Place and Portland Place

Description

Leamington's Vue Cinema opened in September of 1931 as the Regal. According to the "Cinema Treasures" website, "... externally it was given an Art Deco style. There were two entrances, one on Dormer Place and another for the rear seats on Portland Place. The original seating capacity was for 1,305 on a stadium plan, with a raised stepped section at the rear, rather than an overhanging balcony. The proscenium was 45 feet wide and on each side of its opening were two back-lit, coloured glass, surreal style dragons, adding to the Oriental style of the auditorium."



Apparently, five years after it opened the Regal was taken over by the Stratford Picture House Co, which ran the venue until 1993, when it was taken over again by Apollo Leisure Ltd. They added a further five screens over the years.



An article in the Leamington newspaper "The Courier" dated April 18, 2014 was entitled, "Leamington cinema benefits from £500,000 upgrade". It goes on the explain that, "... A balcony area for disabled patrons will be among the new features of the revamped Vue Cinema in Leamington. The £500,000 refurbishment on the 83-year-old cinema in Portland Place is due to be complete on Sunday (April 20), with upgrades also including stadium-style seating, leather VIP seats, a concession stand with an integrated Ben & Jerry's ice cream vendor and improvements to the foyer and concourse area. The toilets will also be improved and a disabled toilet added to the ground floor, as well as extra ticket collection machines. All six auditoriums have had new wall treatments and floor coverings. Cinema manager Craig Manton said: 'We know that there is a huge cinema following in the local area and we are committed to providing something for everyone. Our ongoing investment in the existing site and our digital projectors and other state-of-the-art technology continue to ensure that we are providing an exciting and dynamic entertainment destination.'"


Close Window