Eventim Apollo, Hammersmith, London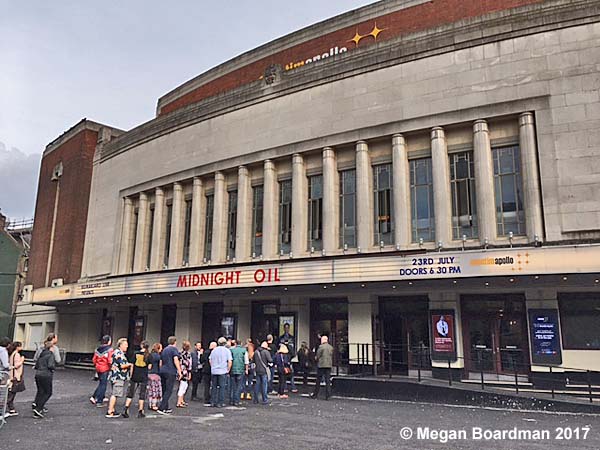 Architect

Robert Cromie

Date Built

1932

Location

45 Queen Caroline St, Hammersmith, London W6 9QH
Description


This Grade II* Listed former cinema sits beside Queen Caroline Street in Hammersmith in the shadow of the Hammersmith Flyover. Over the years it has had various names starting out as the Gaumont Palace but later being known as the Hammersmith Odeon and the Carling Apollo. Today, it is a major live event venue hosting, as Martin Chilton pointed out in the Telegraph in 2013,

"... some memorable concerts, including 38 gigs by The Beatles between 1964 and 1965; jazz concerts by Count Basie, Ella Fitzgerald, Duke Ellington and Louis Armstrong; David Bowie's final concert as Ziggy Stardust in 1973; shows by Bob Marley and The Rolling Stones and Bruce Springsteen's epic 1975 performance."

Its designation as a Grade II* Listed building comes in part from its Art Deco style and decoration but predominantly from the fact that, unlike many of its contemporaries, this building has retained many of its original features. Over the years cinemas of this size have been subdivided into studios providing multiple screens thereby destroying along the way their original elegance.

Historic England say of the building that,

"... The main interior spaces are remarkably well preserved. Curved inner foyer the length of the main front, on two levels with central well under coved ceiling, balanced by coved cornices to side and with ventilation grilles in ceiling."

"Fine Art Deco auditorium has a deliberately simple moulded proscenium with grille concealing organ pipes above, an unusual arrangement.


..... The 1932 Compton organ console was reinstated, following restoration, in 2007. It is installed in a lift shaft to rise to its playing position at the front of the stage as its original position was in an orchestra pit which has since been covered by the extension of the stage. Fluted side walls have exit doors surrounded by stepped moulded surround with fluted key stone and surmounted by aediculed, attenuated niche incorporating columns in antis. This niche, a distinctive Cromie feature akin to those on the exterior, breaks through the deep cornice. ....



...Broad balcony front with shallow relief decoration."
















Close Window