Dolphin Square, London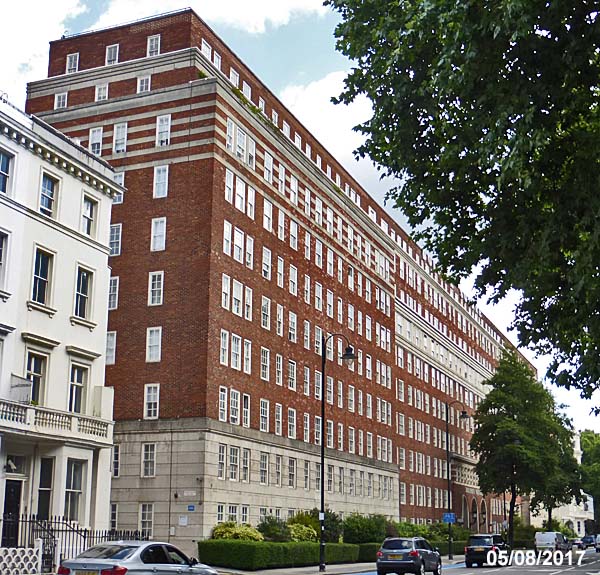 Architect

Gordon Jeeves - consulting engineer Oscar Faber

Date Built

1935 - 1937

Location

Grosvenor Road, Pimlico

Description

Dolphin Square is a huge apartment complex that faces on to Grosvenor Road in Pimlico. The building's website describes it as, "... an impressive blend of imposing architectureal grandeur and tranquil, landscaped gardens." The gardens were designed by Richard Suddell who at the time was the President of the Institute of Landscaped Architects. Apparently Sir Nicholaus Pevsner pointed out that when it was completed Dolphin Square was, "the largest self-contained block of flats in Europe," reflecting that it contained 1250 up-market flats.






The building occupies a site that was once home to an Army clothing factory. An American developer bought the site with plans to build a residential complex called Ormonde Court. This plan failed and the property ended up with Richard Rylands Costain who started the construction of Dolphin Square in 1935.



The complex is made up of 13 houses all of them named after famous naval personalities including Nelson, Drake, Rodney and Frobisher. Below are the entrances to ...


Hawkins House

Grenville House

Various sources refer to the complex as a village that caters to all the needs of its occupants. The Dolphin Square website cites the American travel writer Temple Fielding who described it as a

"mini city"

. They go on to add that,

"... the size of the building, the number of tenants, the sheer scope of the amenities and the central location all belie the fact that Dolphin Square is indeed an oasis of calm in the city."

Those amenities include,

"... a comprehensively-equipped fitness club complete with a wide choice of classes, 17 metre swimming pool, sauna and steam room, luxurious multi award-winning Moroccan spa, the Dolphin Bar & Grill with its superb selection of English cuisine, and an onsite shopping arcade where you can stock up on provisions, buy a newspaper or pick up those last minute essentials. Our own tennis court and croquet lawn on the banks of the adjacent River Thames are for exclusive use by residents. There are also two social clubs solely for tenants, should you choose to participate."


Close Window