The Chrysler Building sits at the intersection of 42nd Street and Lexington Avenue in New York's Manhattan district. Recognized today as an icon of Art Deco architecture it was, when completed in 1930, the world's tallest building, a title it held until the completion of the Empire State Building in 1931. It features a steel frame in-filled with masonry and decorated with metal cladding.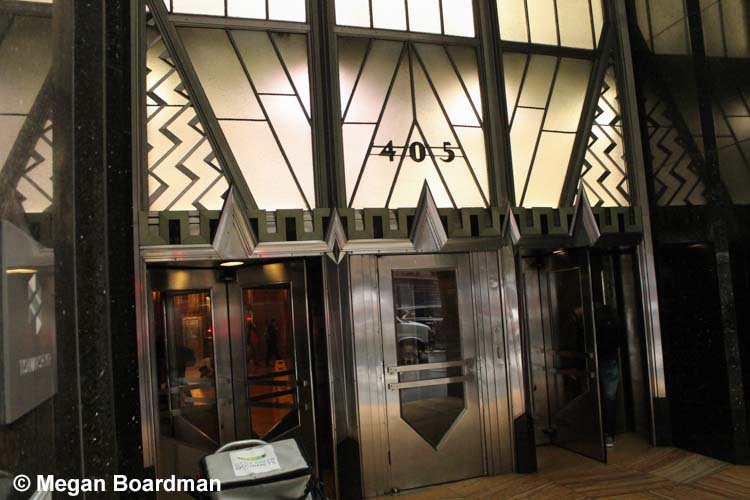 The building's Wikipedia page explains that, "…. The structure contains 3,862 exterior windows. Approximately fifty metal ornaments protrude at the building's corners on five floors reminiscent of gargoyles on Gothic cathedrals. The 31st-floor contains gargoyles and replicas of the 1929 Chrysler radiator caps, the 61st-floor eagles, a nod to America's national bird."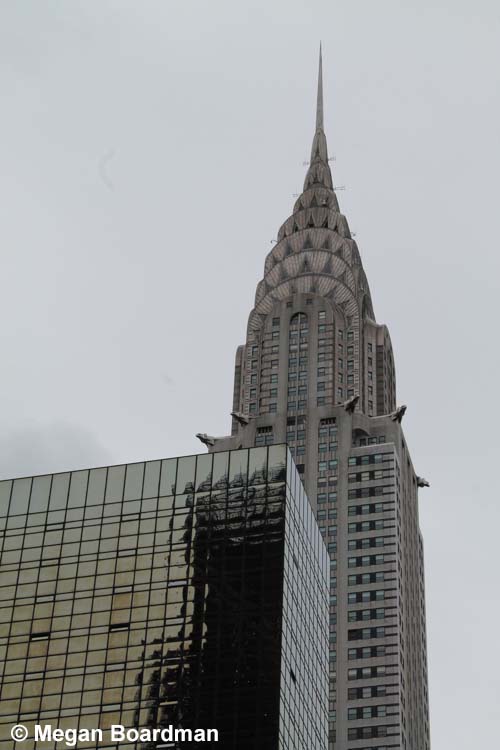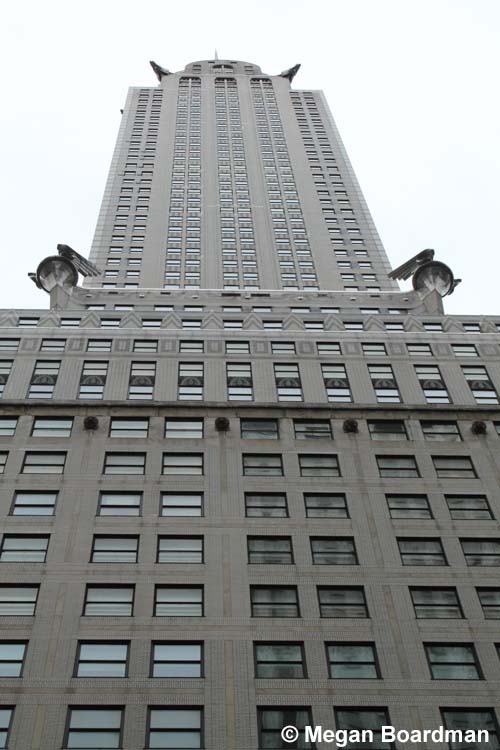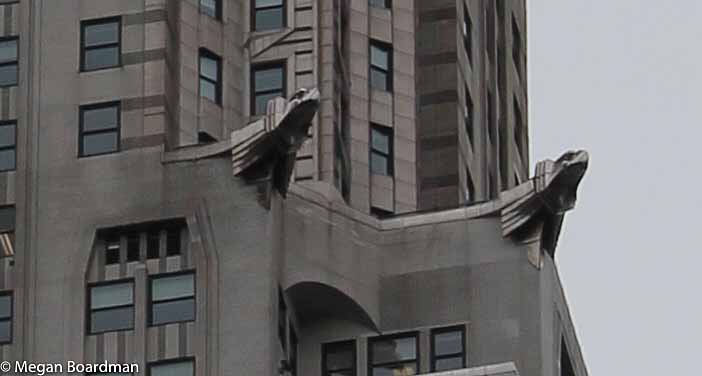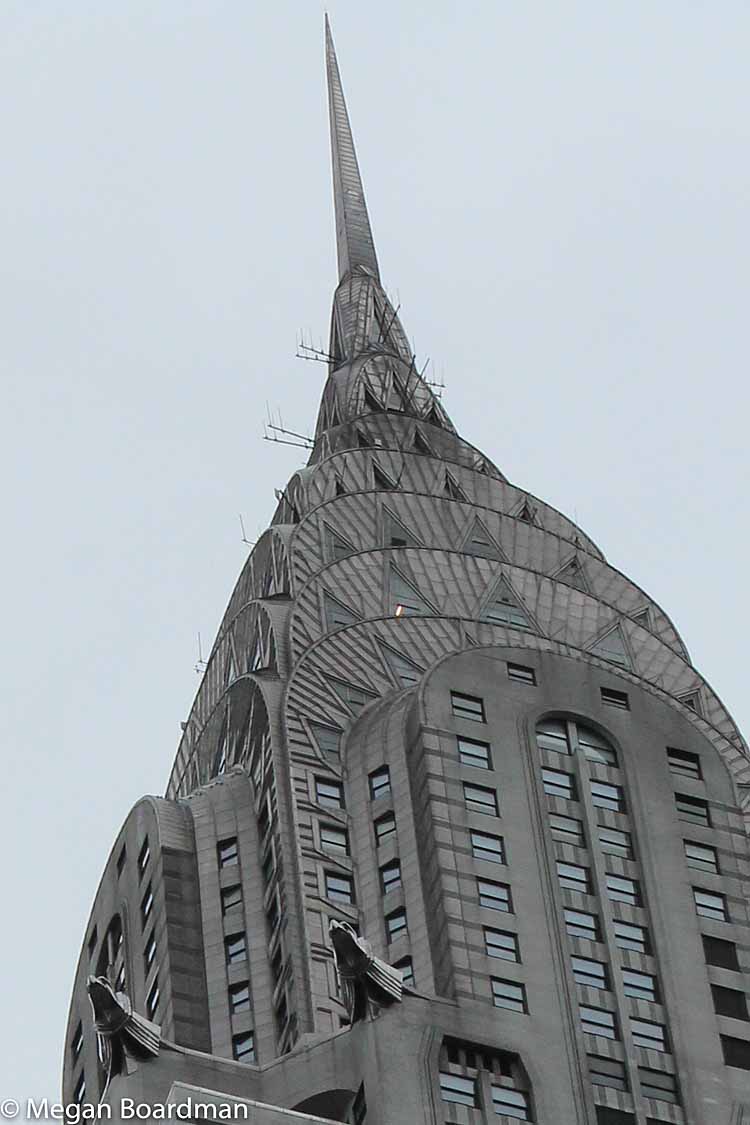 The design of the building incorporated bright "Nirosta" stainless steel, an alloy developed in Germany by Krupp. It was the first use of this stainless steel in an American project.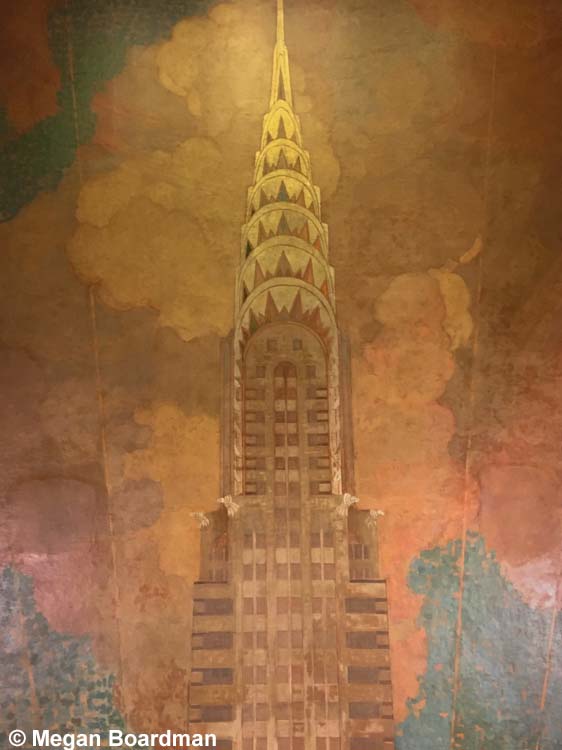 The building's Wikipedia page explains that it was, "..... constructed by Walter Chrysler, the head of the Chrysler Corporation, and served as the corporation's headquarters from 1930 until the mid-1950s. The Chrysler Building's construction was characterized by a competition with 40 Wall Street and the Empire State Building to become the world's tallest building. Although the Chrysler Building was built and designed specifically for the car manufacturer, the corporation did not pay for its construction and never owned it; rather, Walter Chrysler decided to pay for it himself so that his children could inherit it."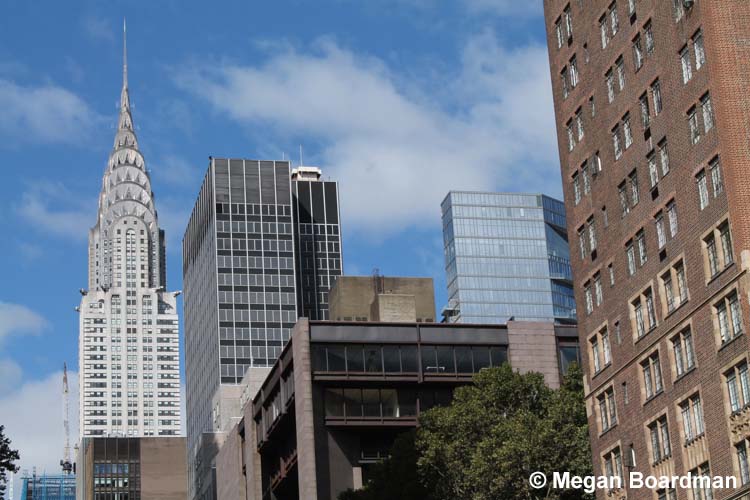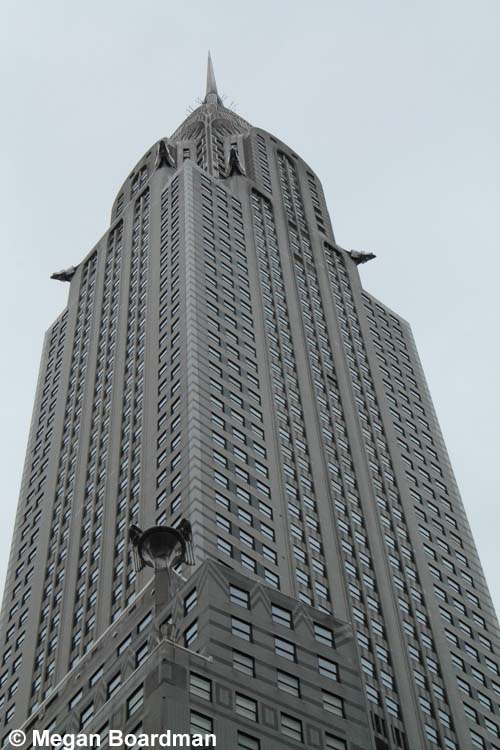 ************************************
- Inside -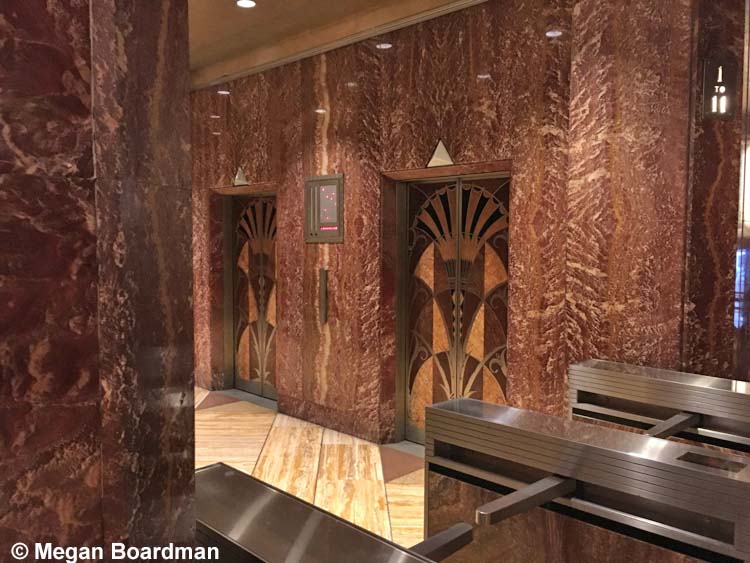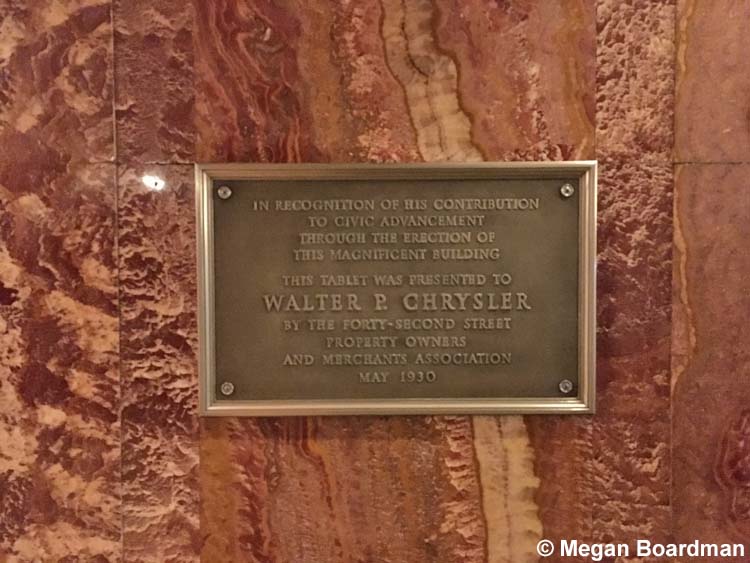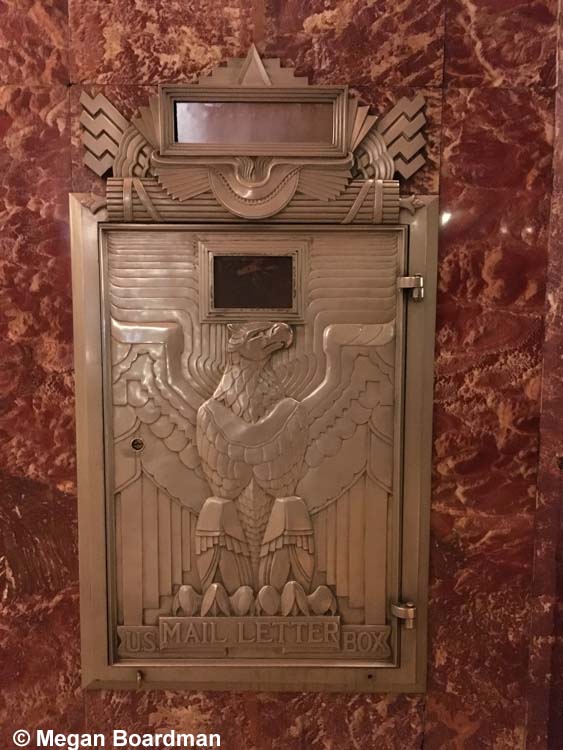 The ceiling in the building's lobby features a mural by Edward Turnbull. The theme of the art work is "Energy and Man's application of it to the Solution of his Problems". It pays homage to the Golden Age of Aviation and the Machine Age. Writing in the New York Times in 1999, David W. Dunlap said of the mural that, ".... Tutankhamen it may not be, but Trumbull's work is a robust, unabashed celebration of technological progress, befitting the theme: 'Energy and man's application of it to the solution of his problems.' Following the inverted Y shape of the lobby, the mural's root image is a brawny male figure symbolizing the 'muscled giant whose brain directs his boundless energy to the attainment of the triumphs of this mechanical era,' in the words of a 1930 building brochure. Radiating from the core are fire, water and lightning; electricity, heat and steam; the telegraph, telephone and radio; ocean liners, trains and airplanes (an aluminum-leaf Ford Tri-Motor with a wingspan of almost seven feet soars over a map from 'Persia' to 'Siam'). Construction workers are seen building the Chrysler Building, which is the apotheosis of the mural."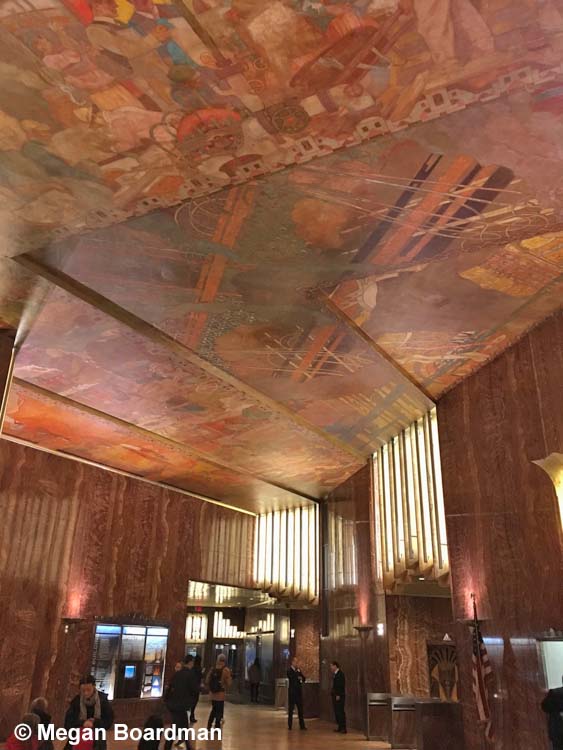 The Y-shaped uses somewhat muted ocher and golden tones.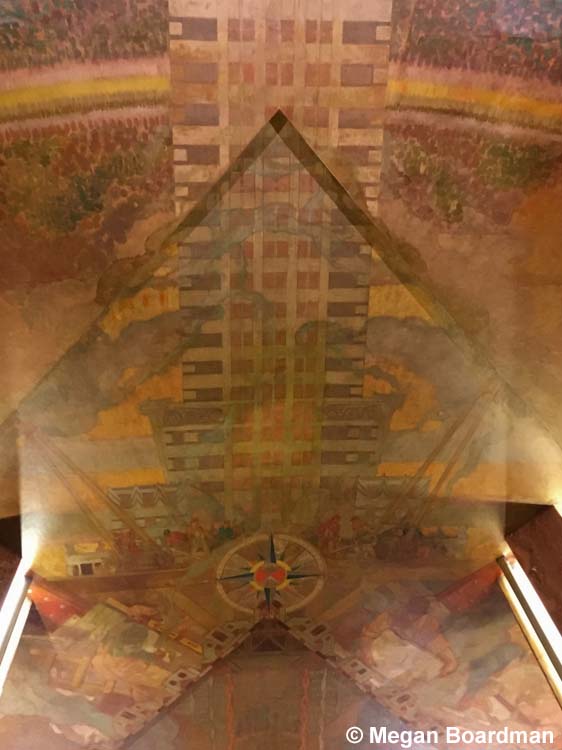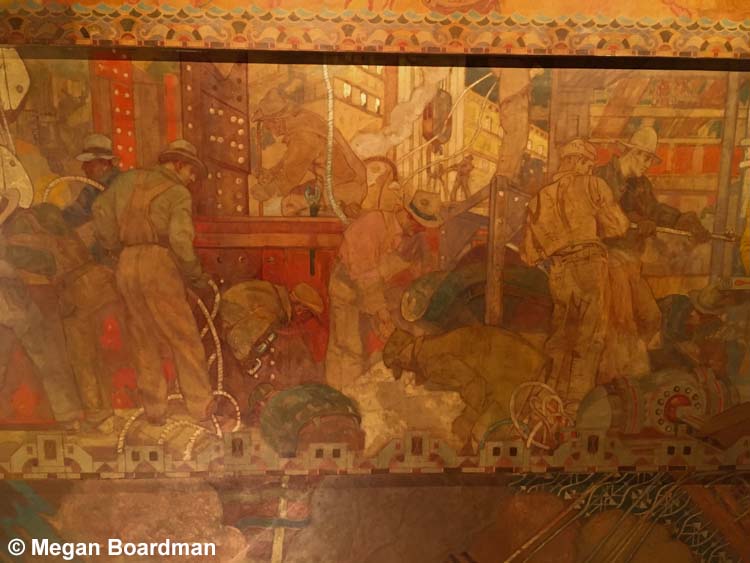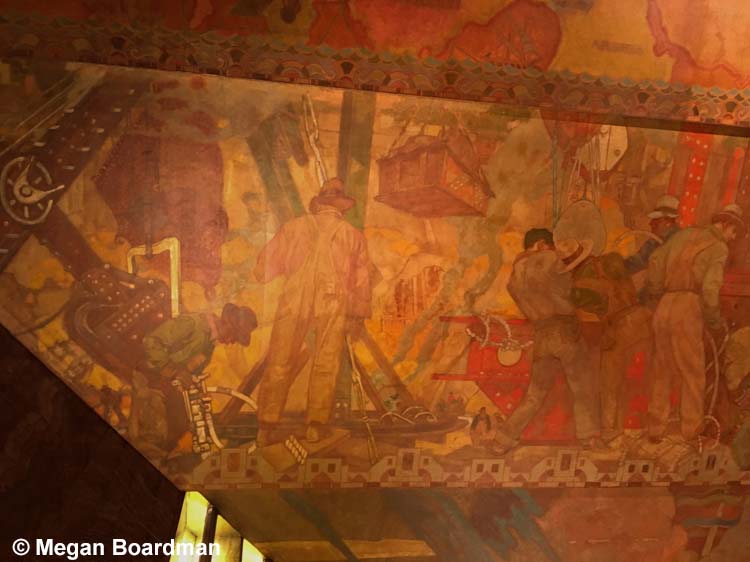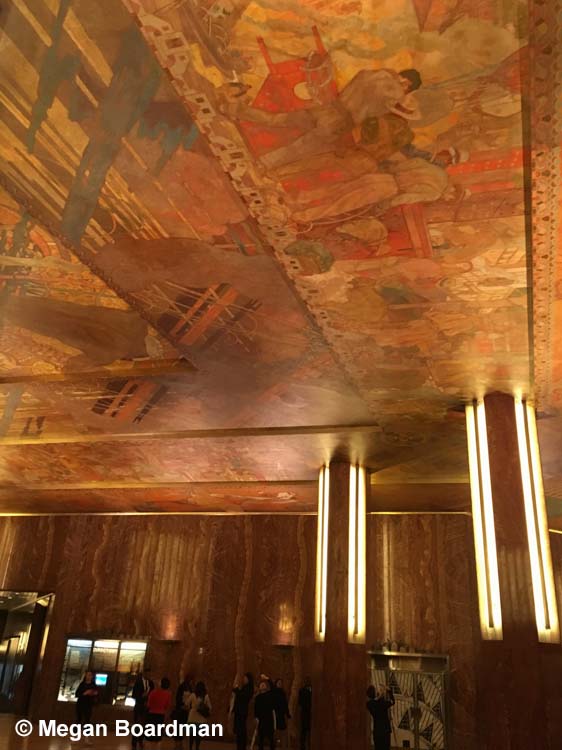 *******************************
The Chrysler Building at night.