The Central Block features a portico with two male figures standing above two impressive columns.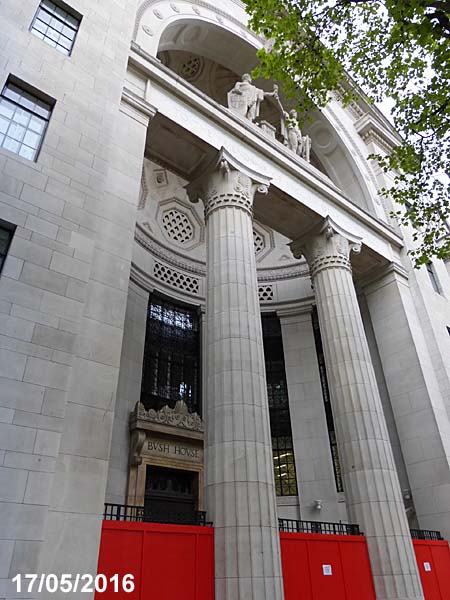 The figures that represent, "Great Britain and America hold a flaming torch and a shield decorated with the British lion and the American eagle. The statues are made of Indiana stone, as it was difficult to find large enough pieces of Portland stone. ....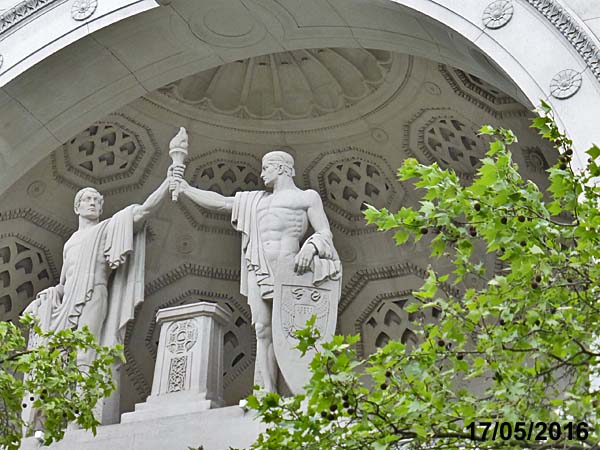 A Celtic altar stand between the two figures and below it is the inscription 'TO THE FRIENDSHIP OF ENGLISH-SPEAKING PEOPLES"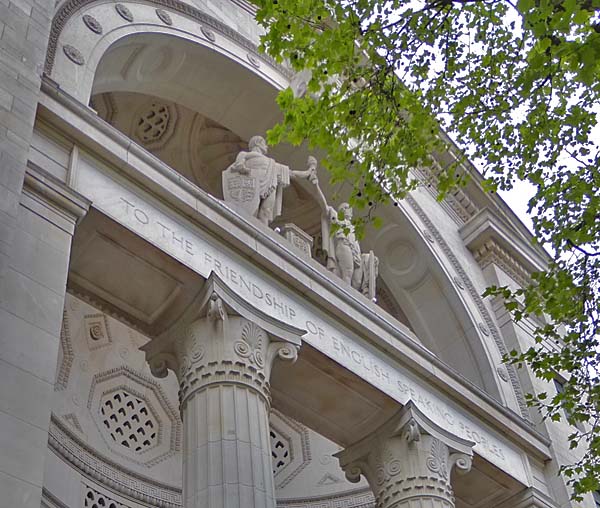 The reason why the BBC website has information on Bush House is that it was once home to the BBC World Service. "Following an international trade slump, and the retreat of companies from London because of World War Two, Bush House needed tenants. When the Empire Service (as BBC World Service was formerly known) was bombed out of its original home at 200 Oxford Street, Bush House, with its large offices and expansive landings was the obvious candidate. European services were re-located there in 1940. (The rest of the BBC Overseas Service arrived in the late 1950s). But Bush House wasn't immune from the bombers, suffering a hit to the front of the building. The statue representing America lost its left arm. It was only in 1970 that there was a plan for restoration, when an American, visiting his daughter at the London School of Economics, saw the damaged statue. He worked for the Indiana Limestone Company and persuaded the company to send a new arm and a stonemason to attach it, in time for the Silver Jubilee celebrations of Elizabeth II in 1977. ... Over the years all the BBC's foreign language services gradually invaded Bush House, penetrating each wing in turn."