William and Henry Birks Building, Montreal, Canada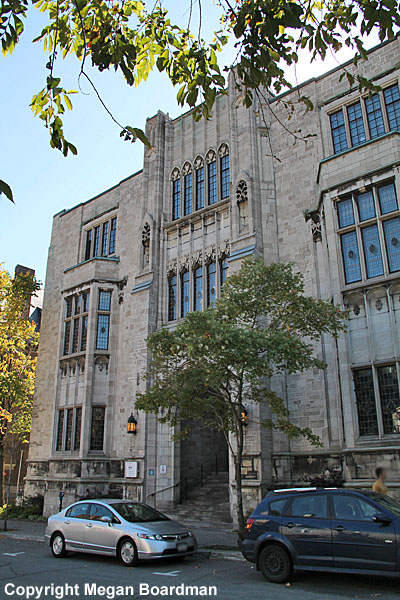 Architect


Harold Lea Fetherstonhaugh

Date Built

Completed 1931

Location

3520 University Street
Description

The William and Henry Birks Building, on the McGill University campus, was owned originally by the Joint Board of Theological Colleges. At that time it was known as Divinity Hall.





The university describes it as being cruciform in plan and Gothic in design. McGill says that the architect gave, "... the Joint Board a well-designed building which was constructed of many high quality materials. Stadacona limestone covers the exterior and lends the facade, with its elegant fenestration, a feeling of mass and stability. The interior contains oak panelling, plaster mouldings, wrought iron, stained glass windows, and carved wood and stone Biblical imagery such as the lamb, the true vine, the rose of the passion, the dove, and the pelican. Although there is much ornamentation throughout, it is not superfluous; it accents the function of the building which currently houses the Faculty of Religious Studies."


Close Window