Battersea Power Station - London, UK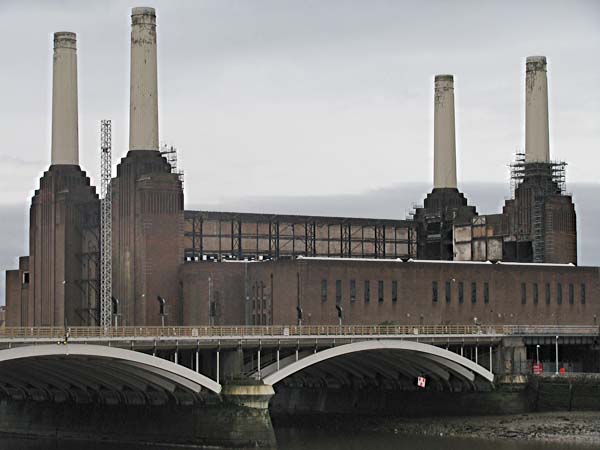 Architect

Theo Halliday of Halliday and Agate & Giles Gilbert Scott

Date Built

A Station commissioned 1933 - 1935
B Station commissioned 1953 - 1955

Location

Beside Battersea Bridge in London

Description

The remains of the Battersea Power Station sit beside the Thames near Battersea Bridge. Its four white chimneys have become an iconic sight in the city. It is in fact two power stations built in stages on either side of World War II so when the A Station was commissioned in the mid 1930s there were only two chimneys. Within months of the ending of the war construction began on the B Station which was ready for commissioning a full 20 years after the A Station. So it wasn't until the mid 1950s that all four of the chimneys were in place.



Battersea was the first of the super power stations to be built in the London area and there was a degree of controversy over its size and its impact on the surrounding area. From a visual point of view this concern was addressed by involving the architect Giles Gilbert Scott in the design of the exterior. His design resulted in a building that has been described as a "Temple of Power" with chimneys that resembled classical columns.



Prior to World War II the station was burning 4,000 tonnes of coal weekly and confirming the expressed fears about pollution. However, it was in that pre-war period that scrubbers were added to the chimneys to remove sulphur from the emissions, but this didn't reduce the impact that the station was having on the Thames.

The A Station ceased to operate in 1975 and the B Station eight years later in 1983. Since then there have been numerous efforts to both protect the building and to find ways to incorporate it in new developments. English Heritage have given it Grade II* Listing and added it to its Building at Risk Registry. They describe its present condition as "Poor". Along the way there have been plans to convert it into an amusement park, a retail outlet, residential flats, a hotel and conference facilities and recently it has been linked with the construction of a new stadium for the Chelsea Football Club.



The building's roof was removed in the 1980s and since then the deterioration of the building has only accelerated. Within the crumbling structure, the spectacular Art Deco control room still exists and from time to time features as a backdrop for films, including a recent appearance in BBC's Sherlock.



The rather murky looking image below was taken in September of 2014 when work was underway to redevelop the site.

Close Window