The Woolworth Building, New York, USA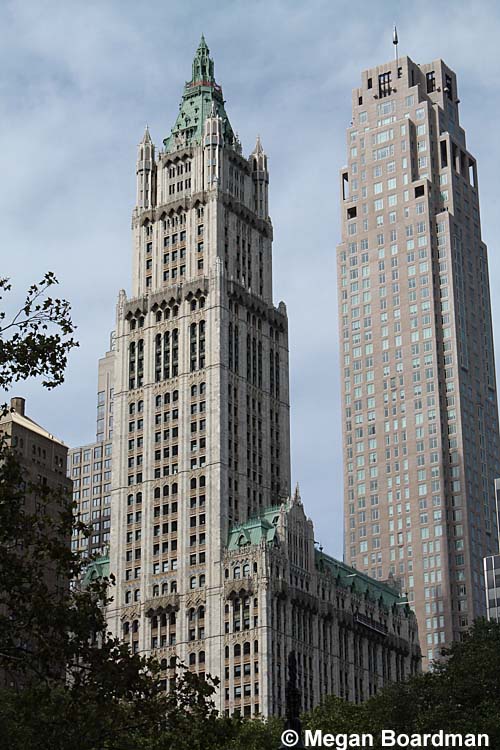 Architect


Cass Gilbert

Date Built

Completed 1912

Location

233 Broadway in Manhattan
Description


At the beginning of the 20th Century, the over-riding ambition of developers and architects in New York appears to have been to make your building taller than every other structure on the island of Manhatten. The Woolworth Building was no exception. Frank W. Woolworh commissioned Cass Gilbert to make his building the tallest in New York and thereby the tallest in the World. To achieve this it needed to be more than 700 feet, the height of the Metropolitan Life Tower. As the design developed and the building escalated in scale from 625 to 792 feet, the cost ballooned from $5 million to $13.5 million.



The "nye-architecture.com" website explains that,

"…. Extensive foundations and wind bracing necessary for the tall tower as well as the ornate terra-cotta cladding and sumptuous interior fittings both inflated costs and created one of the masterpieces of early skyscraper design. The exterior is clad in a cream colored terra cotta with subtle blue and yellow accents in the glaze. The design evokes the guildhall architecture of France and Belgium. Above the 24th floor a tower rises to the equivalent of 55-stories and is capped by a high-pitched copper roof, now a green patina, crowned with tracery and gargoyles. An observation deck, once open to the public, has been closed for decades."




The sumptuous lobby features marble, fine mosaics and a rich program of sculpture, including brackets with medieval-style caricatures, including Mr. Woolworth counting his dimes and Gilbert cradling a model of the building. Allegorical murals of Commerce and Labor and ceiling vaults accented with thousands of gold tesserae make the lobby seem like a church. Indeed, the gothic tower was nicknamed "The Cathedral of Commerce."



A piece in the "untappednewyork" website explains the presence of these, vault doors in the Woolworth Building. ".... Irving National Bank was the Woolworth Building's main anchor tenant until relocating to their new headquarters at 1 Wall Street in 1931 (they also changed their name to Irving Trust Company at that time). Today, an air conditioning duct runs through the door so the original double vaulted doors can't actually close and the inside of the vault is used by the building's maintenance staff."


"At the base, the building is a practical U-shaped mass that maximizes the amount of light in offices. It spirals upward in a sheer Gothic fantasy of arches, spires, flying buttresses and gargoyles. The Woolworth Building is essentially a twentieth century building clad in fifteenth century gothic details. But it works."




The building operated as the Headquarters for Woolworths until its declaration of bankruptcy in 1997, although from the beginning the company only occupied a very small proportion of the building.


Close Window