138 -142 Holborn Bars, Former Prudential Assurance Building, London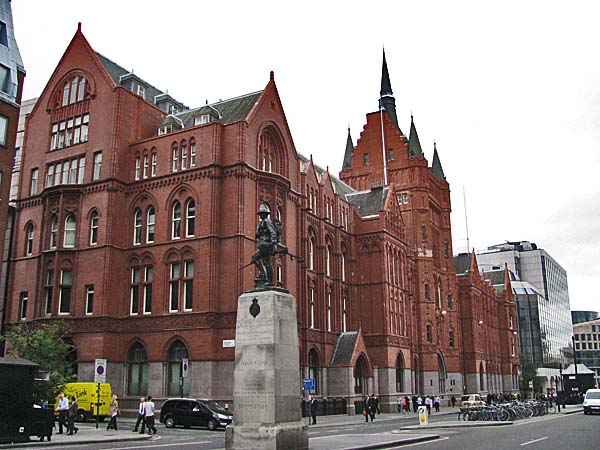 Architect

Alfred & Paul Waterhouse

Date Built

1879 - 1901

Location

138 -142 Holborn Bars

Description

Formerly the headquarters of the Prudential Assurance company, this building on Holborn Bars was designed by Alfred Waterhouse and completed at the beginning of the 20th Century by his son Paul.

Over the years the red terracotta building has been renovated on a number of occasions. The Skyscraper News website says that, "

By the 1930s the Victorian Gothic building was increasingly dated, both inside and out. E.M Joseph was brought in as the architect for this renovation and remodeled the exterior with the terracotta that one can see today. Numerous Gothic Revival interiors were stripped out and replaced by Art-Deco furnishings making it more fashionable again.

" They add that, "

Holborn Bars was renovated again, this time in 1993 by EPR Architects whose overhaul of the building led to an increase of internal space from 34,931 square metres to 39,948 square metres. Although not occupied by the Prudential today (they left in 1999), they retain ownership of it over one hundred years on."



EPR say of their involvement that, "The brief was to refurbish the existing building to provide approximately 170,000 square feet of high quality speculative office accommodation and achieve a BREEAM 'Very Good' rating. ... the refurbished entrance hall provides a transitional reception room between the historical square and the modern spaces, ideal for informal meetings. The specialist lighting scheme aides to draw the visitor through the entrance hall with its unique original faience columns, to the main atrium and reception desk at its base."