Victoria Theatre, Halifax, UK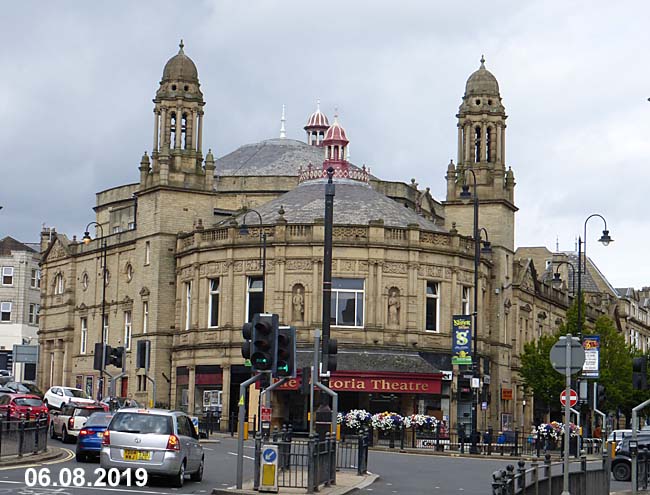 Architect

W Clement Williams

Date Built

1901

Location

Commercial Street and Fountain Street

Description


Designed at the end of the 19th Century and completed in the 20th, the Victoria Theatre actusally started life as the Victoria Hall, as you can see below. The building was funded by the Halifax Concert Hall & Public Rooms Co Ltd who were seeking to create a " ... substantial and prestigious concert hall in the centre of Halifax,"




The theatre's website explains that, ".... The local architect, W Clement Williams, faced the challenge of a site which is a parallelogram on only three sides; the fourth side being the shape of a wedge. His innovative solution to this conundrum is still a fascinating aspect of the building to this day. The foyer retains the original features: an extremely artistic structure with a broad staircase, surmounted by a stained glass dome of ornate design. "



The Victoria Hall opened on February 8, 1901with a concert by the Halle Orchestra. By 1904 it was being used as a cinema and it continued to do that for another 49 years untl 1953. In 1960 the Halifax Corporation bought the building and converted it into a theatre that once again hosted live performances.In 1972 it was renamed the Halifax Civic Theatre but in 1993 it became The Victoria Theatre.




When the building was listed English Heritage said of the interior that it showed, "... much rich decoration, with especially ornate foyer and stairwell; Corinthian jewelled columns support imperial stairs which have cast-iron curved flowering stems for balustrades, with polished wood handrail; foyer walls panelled with pilasters and moulded over door decoration. Full width stair light deeply coved and filled with painted glass in intense colours, with swags and bows framing central `VR' motif. Bust of Queen Victoria on pedestal on stair landing. Auditorium entirely without columns to the cantilevered balconies which have bombe fronts; moulded proscenium arch, and coved panelled ceiling."







Close Window