Thornton's India Rubber Company, Briggate, Leeds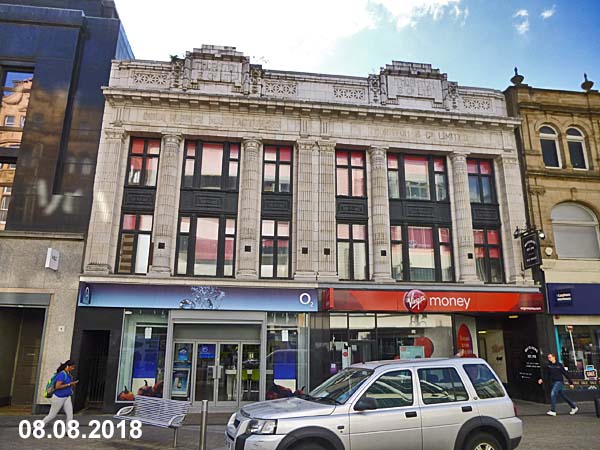 Architect

S D Kitson

Date Built

1916

Location

50 - 51 Briggate

Description

This former Thornton's India Rubber Company building is constructed from reinforced concrete and steel and clad in matt glazed faience by the Leed's Fireclay Company.



The "www.antiquegolfscotland.com" website offers some information. about Thorntons. "The Thornton started off as a waterproof and india-rubber manufacturer with 'Ventilating Celtic Waterproofs' and the 'Cavalier Waterproof Cloak' two of their early trademarks. Their advertising proclaimed their gold medal for waterproof manufacturers from the International Fisheries Exhibition in Edinburgh in 1882. Later they expanded into all sorts of sports equipment, as the illustration shows, with the first mention in their advertising of 'golf lawn tennis and croquet' in 1899. In golf equipment, clubs from their Wonder series are probably the most commonly seen. Their head office was at 78 Princes Street in the centre of Edinburgh and manufacturing took place here also. There was further manufacturing capability in Belfast and, in 1890, they had additional branches in Leeds and Bradford and, by the following year, had added a branch in Gordon Street in Glasgow though this seems to have closed in 1905 or 1906. The Edinburgh shop, at least, kept going until the 1960s."

The poster below was displayed on the https://digital.nls.uk/ website and is shown here under a "Creative Commons Attribution 4.0 International Licence". For details click on the image.






Close Window