Central St. Martins School of Art, London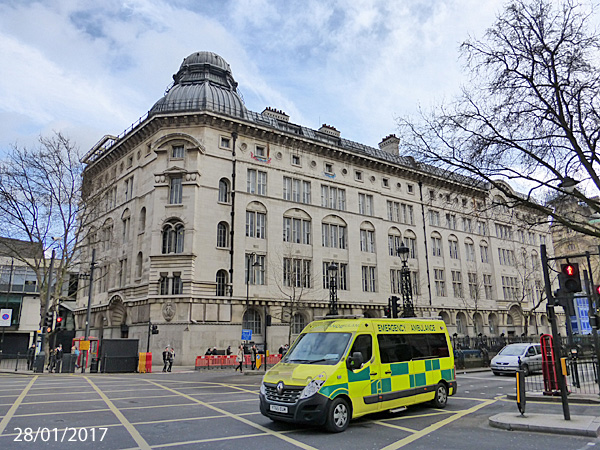 Architect

E. P. Wheeler

Date Built

1938

Location

Southampton Row, Camden Town

Description


This Grade II* Listed building on the corner of Southampton Row and Theobalds Road was once home to Central St. Martin's College of Art and Design. Originally it was shared by the Central School of Arts and Crafts and the London Day Training College. The listing comments describe it as follows: "5 storeys and corner attic. Long front of 14 windows to Southampton Row, canted corner and short return of 6 windows to Theobalds Road and three to High Holborn. Ground storey has round-headed windows and impost bands with rectangular slabs of granite above, originally intended for relief carvings. First and second storeys have windows of irregular width, slightly recessed and united under a round-headed arch. Third storey with similar windows between string courses. Fourth storey with small, square windows alternating with decorative stone grilles in the form of lozenges with inset circles. Heavy bracketed cornice."





A small sculpture is located on the corner of the building at street level. It depicts a woman supporting the coats of arms of St George and City of London. It carries the date of 1908 and the inscription 'Labor omnia vincit' meaning "work conquers all".

Close Window