The Spitfire Works, Penfold Street, London, UK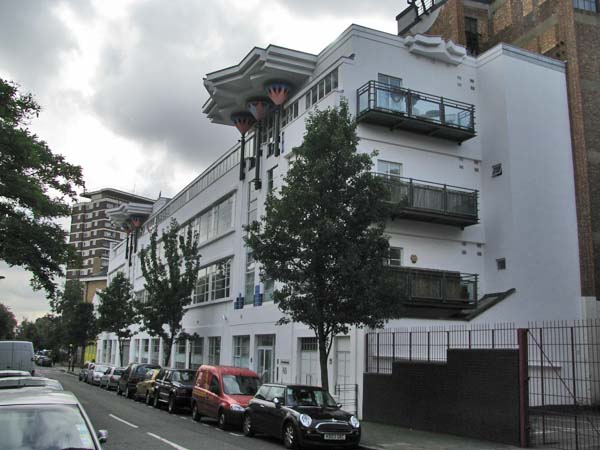 Architect

Original architect unknown - refurbishment attributed by various sources to Terry Farrell + Partners and to Munkenbeck + Partners
Date Built

1920s

Location

Penfold Street, St. John's Wood

Description

This former tyre factory occupies a block in St. John's Wood defined by Penfold Street, Frampton Street, Hatton Street and Boscobel Street. It is a conglomeration of a number of buildings which apparently date back to the 1920s and built for the Palmer Tyre Company. You won't find the name Spitfire Works on the building and they didn't build spitfires here. They did however manufacture tyres for the Air Ministry for use on a variety of aircraft, as the sign on the Hatton Street side of the block indicates.





The buildings have recently been refurbished and today they are used for residential, commercial and artistic purposes. Various sources attribute the refurbishment to Terry Farrell Architects, who also occupy part of the complex. Others say that it was Munkenbeck + Partners who were responsible. It is possible that both practices were involved in different aspects of the refurbishment.

On the Penfold Street side you will find this attractive white art deco building which is now branded as the Wallis Building. Judging by online advertising this is a residential block with flats selling in the region of £600,000 (October 2012).

Walk around the corner to Hatton Street and the view is still very much art deco but here the decoration involves tile and dramatic wing-like decoration.

The large brick and tile building with the wing decoration is known today as Hatton Street Studios. Number 7 Hatton Street Studios is home to Terry Farrell and Partners.

As you can see above, further along the street the red brick and black tiles are exchanged for white render and green tiles although there are some unifying colour lines. This section of the building is referred to as The Old Aeroworks. Estate agent websites suggest that this is also a residential block with two-bedroom flats commanding an asking price in the region of £570,000 in October of 2012.

On Boscobel Street, a lower two-storey building with a peaked roof runs the length of the block. It appears that this was once a warehouse, presumably associated with Palmers Tyre factory. Today it seems to have a number of occupants. At the Penfold Street end the building it is painted yellow and bears the sign THE SHOW ROOM.


"The Show Room" describes itself as,

"one of the first galleries to be established in what is now a thriving East End art scene, occupying its Bonner Road site in Bethnal Green for over twenty years."

This building in St. John's Wood is,

"The Showroom's new 3,000 square foot building on Penfold Street

(it)

has been reconfigured by Berlin-based architects ifau + Jesko Fezer in collaboration with London's Working Architecture Group to provide a dynamic flexible space for its long-term growth."On their very yellow website they say that this facility offers, ... a new programme that accommodates commissioned projects, as well as an expanded education facility that hosts workshops, conferences and events for artists, writers and curators. While continuing to support the production of new work by artists ..."


Close Window