Radiator Building, New York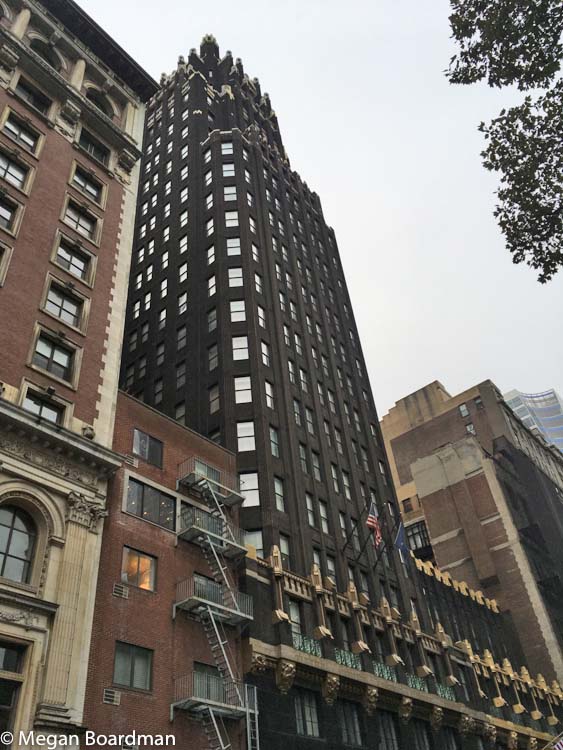 Architect

Raymond M. Hood

Date Built

1923 - 1924

Location

40 West 40th Street, Borough of Manhattan

Description

A document by the Landmarks Preservation Commission, dated November 12, 1974, describes the Radiator Building as "... a striking twenty-three story black and gold tower, ... one of the finest and most significant skyscrapers in Manhattan. Designed by Raymond M. Hood and built in 1923-24, the American Radiator Building initiated a new trend in skyscraper design in New York City with its bold cubic massing of forms - often associated with the Art Deco style - and its freedom from the Beaux-Arts classical details that had previously encumbered New York City skyscrapers."



It goes on to add that, "... The most striking feature of the building is its unusual black and gold color scheme. In 1926, Talbot Hamlin, the noted architectural historian, described it as 'the most daring experiment in color in modern buildings yet made in
 America.' To prevent the many windows from looking like black holes and destroying the solid effect of the tower, Hood decided to face the walls with black brick. Gold accents at the tops of the setback pinnacles provide a handsome contrast to the black walls. Hood's interest in color, which is not generally associated with the classical tradition, was also expressed in many of his other buildings. The building was equally dramatic at night when it was floodlighted.
 It became, in effect, an advertisement for the American Radiator Company. The vivid effects of coloration made it look like a giant glowing coal, even though Hood denied his intention of creating this conscious symbolic effect."



Apparently an article in the New York Times on the 20th of January 1924 called the building, "... A daring departure from the conventional in office building construction ... Unlike any office building in the country, the new structure is faced entirely with black brick with golden colored trimming, (which) worked together to give a rich black and gold decorative effect. The building has already provoked wide discussion in professional circles because of its unique design....An interesting feature is that over 90 percent of the floor space is within 25 feet of the windows."