Plaza Cinema, Piccadilly, London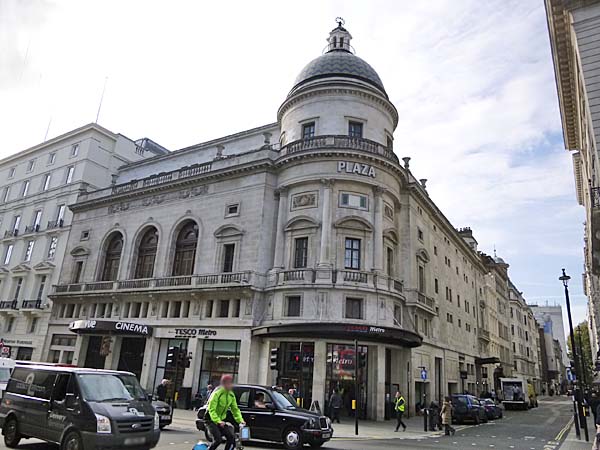 Architect

Frank T. Verity

Date Built

1926

Location

Regent Street and Jermyn Street

Description


The Plaza Theatre opened officially on March 2nd 1926 apparently to a performance of "Nell Gwyn" starring Dorothy Gish. The Theatre History Website provides a picture of just how luxurious it was. "The grand foyer was lavishly decorated and furnished with genuine Italian antique pieces, and the splendid auditorium, in the Italian Renaissance style with plasterwork by Marc Henri, was capable of seating 1,896 people in some comfort and on three levels, stalls, royal circle, and balcony, and was equipped with a Wurlitzer 3 Manual 15 Rank Organ. There was also a cafe ..."



Today, the building is home to a Tesco Metro store and a Vue Cinema that claims to be, "... London's only fully digital, fully 3D cinema, and conveniently located in the centre of London, we're the perfect place to see film, music, sports, opera and ballet in comfort, away from the crowds and chaos of Leicester Square. All five 3D screens come with Sony 4K Digital Projection, Dolby Surround Sound and luxury seating, guaranteeing you an unbeatable movie experience on every trip."




Close Window