Plaza Shopping Centre - Oxford Street, London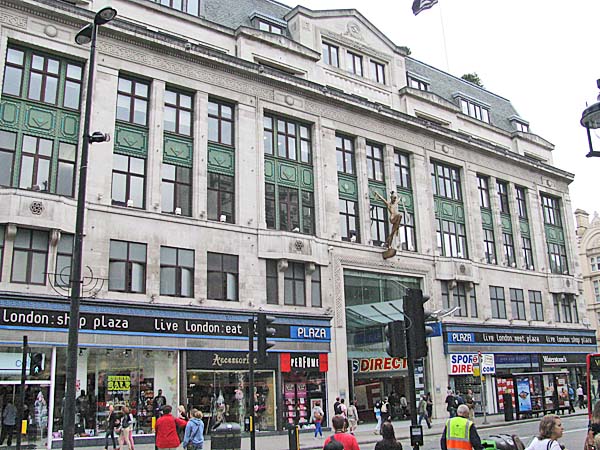 Architect

Slater & Moberly
Date Built

Completed 1927
Location

120 Oxford Street, London W1

Description


This building on Oxford Street was once home to the Bourne and Hollingsworth Department Store. That company closed its doors in 1983 and subsequently the building was converted into the Plaza Shopping Centre. The building's Wikipedia page tells something of its story. "Bourne and Hollingsworth was a large department store on the corner of Oxford Street and Berners Street. It was named after its founders, Walter William Bourne and Howard E Hollingsworth, brothers in law, who started the store in Westbourne Grove as a drapery store in 1894. The store then moved to the Oxford Street site in 1902 (built in 1894) due to competition with Whiteleys, and by 1928 the store had been remodelled (by Slater & Moberley in the Art Deco style. ....



.... Bourne and Hollingsworth became renowned for selling the best quality goods and for looking after their staff, providing accommodation at Warwickshire House on Gower Street for up to 600 female workers. Like much of Oxford Street, the store suffered bomb damage in 1940, however today much of the art deco facade still survives."

The sculpture on the facade of the Plaza clearly replaced the clock that was mounted there originally. It is known as "Dancer with Ribbon" created by Michael Rizzello and is apparently based on / inspired by the ballet dancer Darcey Bussell.



When I passed the building in February of 2017 the shopping centre was closed and the ground floor was boarded up.

It appears that it is once again under conversion. This time from a multiple retail outlet format to a single occupant. An article on the "

retail-week

" website dated January 19, 2016, explains below the headline "

Next to take over entire Oxford Street centre by 2017 as it unveils flagship plans

" that,

"... Next will transform the entire Plaza shopping centre on Oxford Street into a flagship store by the end of 2017, the retailer has revealed. The 73,000 sq ft store will boast a frontage of around 50m, running between Wells Street and Berners Street. Next plans to incorporate a Lipsy concession and an in-store cafe into the store, which will trade over two floors."