Paramount Building, New York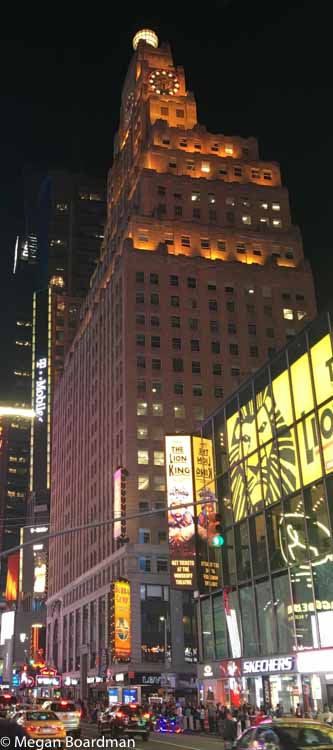 Architect


Rapp &Rapp

Date Built

1926- 27

Location

1493-1501 Broadway, Borough of Manhattan

Description


The I.andrnarks Preservation Commission website describes the Paramount Building as an exemplary example of, ".... the innovative setback skyscraper type of the 1920s, while the ornamental details are classically inspired, a hallmark of Rapp & Rapp's style, the striking silhouette of the upper stories is enhanced by four giant clock faces, which were conceived to create a memorable image of the the Paramount trademark in the minds of moviegoers, and a crowning glass globe. The Paramount Building, which once housed the Paramount Theater, stands as as an important reminder of Times Square's boom in the 1920s during the early years of the motion picture industry."



The building's Wikipedia website adds that, ".... Paramount Pictures, one of the major American motion picture companies in the 1920s, built its headquarters at the 1501 Broadway location along with a cinematic theatre. Construction lasted a year between 1926–1927 costing $13.5 million. At the time of its completion, it was the tallest building in Times Square, and once sported an observation deck."



".... The Rapp brothers created a thirty-three story office tower which was influenced by the Art Deco style, and a theatre in the palatial Neo-Renaissance style behind it. In 1922, Paramount Pictures had purchased the Putnam Building. Construction of the building began on November 1925. The Paramount Theatre opened on November 19, 1926. With the spin-off of the theater units in 1950 as United Paramount Theatre, Inc. the building became the UPT's headquarters being leased along with the theater from Paramount Pictures. The building continued as American Broadcasting-Paramount Theatres's headquarters after UPT's merger with ABC. The theater closed in 1964 under UPT ownership only to be reopened later that year under new ownership, while ABC moved to the ABC Building at 1330 Avenue of the Americas in 1965. The theater was dismantled in 1967."

Close Window