The Grade I Listed Memorial on Tower Hill, for those members of the various elements of the Merchant Marine, is in fact two memorials. The one featured on this page was designed by Sir Edwin Lutyens to honour the dead of World War One. Following World War Two, a second memorial was created in the 1950s that extended Lutyens work into the garden. A detailed description of that memorial can be found elsewhere on this site.
As the excerpt below from a War Graves Commision information board explains, the original plan was to locate the WWI memorial on the Embankment in view of passing shipping.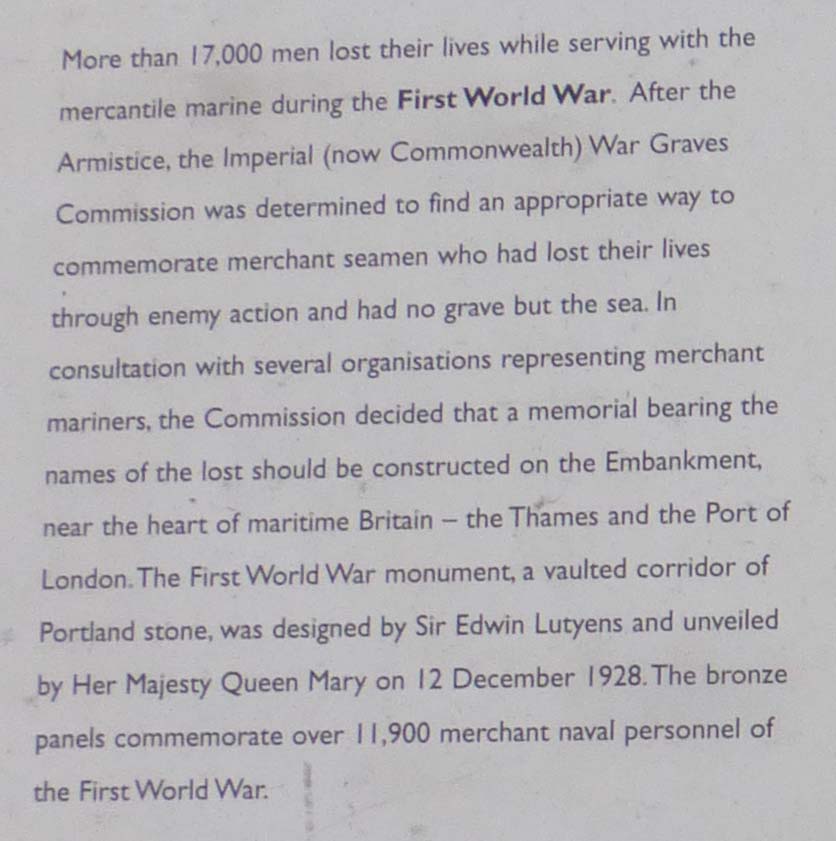 However, this plan ran into difficulties because it would have meant the demolition of an arch designed by Sir Joseph Bazalgette. It was then suggested that it be located on Tower Green somewhat further away from the river but once again this raised objections because of another conflict. A special Act of Parliament was required to allow construction of the memorial to go ahead.
The Historic England website says that the memorial,
"... stands on the southern side of Trinity Square Gardens, next to the Tower of London and oriented east-west on Tower Hill. It is surrounded by a number of designated buildings and structures. The memorial, raised on a platform above street level, is in the form of a temple of three bays. Each bay is formed of piers and columns in the long side walls, flanking the central open space. The piers forming the bays have external round arch curved niches in Portland stone, and are clad in rectangular bronze panels laid in a stretcher bond pattern and giving the appearance of rusticated walling. These panels bear the names of the missing, arranged by vessel."