King's Theatre, Glasgow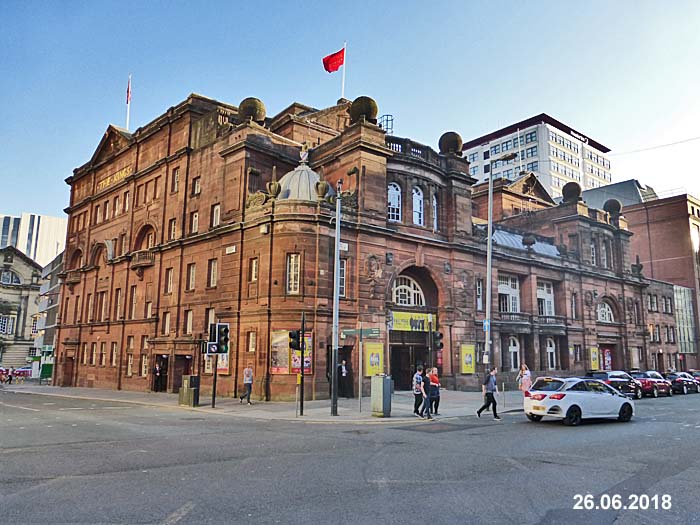 Architect


Frank Matcham

Date Built

1903 - 1904

Location

Bath Street

Description

Described as Edwardian Baroque in style, this Category A Listed building on Bath Street in Glasgow is a creation of the famous theatre architect Frank Matcham. The listing information described it as an, "... Important theatre with outstanding interior. Polished red sandstone ashlar. 7 irregular bays with curving lower domed angle bay to Elmbank Street. Wide 2nd and 5th bays, flanked by broad channelled pilasters with medallions. Entrance in 2nd bay, dummy entrance in 5th; semi-circular arches above with recessed windows; shallow bowed and pilastered arched tripartite windows above capped with balustrade; bold, ball finials over pilasters; recessed pediments behind main body of theatre. Entrance bays flanked by narrow bays. 2 central bays with large recessed, multi-pane 1st floor windows and curved balconies; parapet with urns."



The theatre opened on September 12, 1904 at a cost of £50,000 commissioned by the theatre owning and production company, Howard & Wyndham Limited. "At the King's in Glasgow there is a lavish marble lined entrance foyer with a barrel-vaulted coffered ceiling and this leads onto the highly decorative auditorium. The plasterwork in the auditorium is modelled in fibrous plaster, a Matcham speciality, which allowed for more sculptural three dimensional forms to be created. The three tiers of horseshoe-shaped balconies are cutting edge in their cantilevered construction method as this allowed for an unobstructed view of the stage and also created more space for paying customers. When built the King's had seating capacity for 1,841."


Close Window