Edward Everard's Print Works building is tucked away down a narrow side street in Bristol's city centre and set back between its neighbours so that it isn't really visible until you are infront of it. For a very functional building, it is clear that Everard made every effort to make its facade as beautiful as possible. Clad in tiles created by Doulton and Company and designed by W J Neatby, it pays homage to William Morris and Gutenberg and their contributions to the world of printing and literature.
Below you can see the "Spirit of Literature" flanked by Morris on the right and Gutenburgh of the left.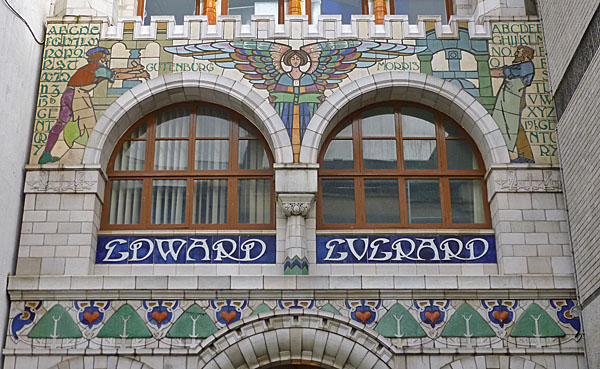 At the top is a female figure symbolising Light and Truth.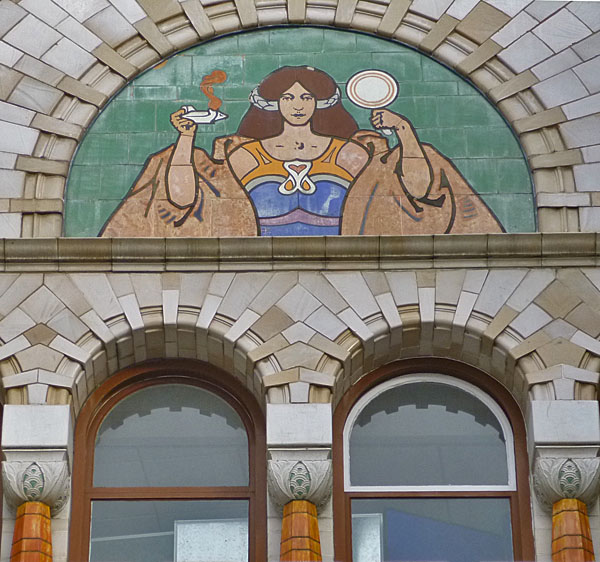 The building is Grade II* Listed although most of it was demolished in 1970 leaving the facade and entrance in tact. English Heritage says that it features,
"
An important early use of glazed coloured external ware to propagate Arts and Crafts ideas of the reconciliation of art and industry, in the largest decorative facade of its kind in Britain."
Today it appears to be an office building.

Everard had his initials woven into the ironwork of the entrance gates.