This Heritage Property, on Moose Jaw's Main Street, was once, as the sign says, the Dominion Lands Office. From this building the Dominion Land Agent and a staff of twenty oversaw the registration of homesteads in South Western Saskatchewan in the early 1900s. In all some 17,000 square kilometers of land were registered in this office and often the street outside was crowded with prospective settlers.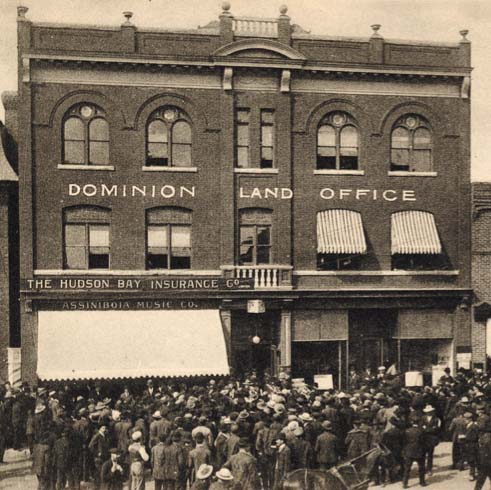 Initially, the brick clad building had two "wings" on either side of a central stairwell. A fire in 1968 resulted in the top floor of the northern block being demolished. The Heritage Buildings website says that the building has, "...Decorative elements such as its pilasters, parapet, cornice, false balcony and balustrades, mouldings, arched window openings that contain windows with tracery are among features that contribute to this building's prominence. An interior tin ceiling and the common stairwell and its skylight are tangible reminders of the building's age of construction."

Today the building is the access point for the "Tunnels of Moose Jaw" tourist attraction. Their website explains that, "... The Tunnels of Moose Jaw is a year-round tourist attraction that entertains guests with unique productions of Canadian history. Head beneath the streets of downtown Moose Jaw and undergo two guided theatrical tours. Relive Al Capone's bootlegging days in the Chicago Connection tour and experience first-hand the hardships of early Chinese immigrants in the Passage to Fortune tour. We are a family friendly attraction that offers an experience like no other."