De Bazel, Amsterdam, Holland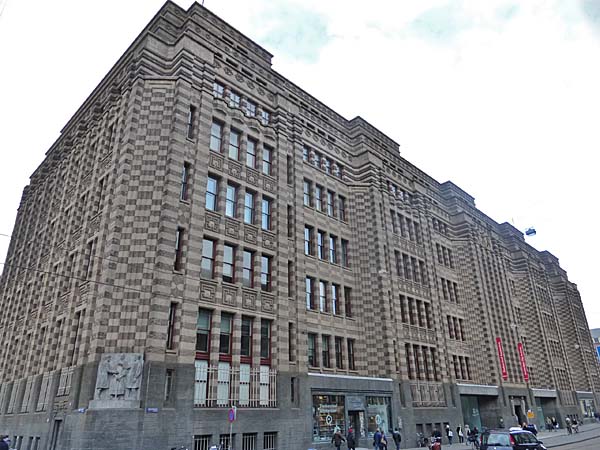 Architect

Karel de Bazel

Date Built

1919 - 1926

Location

Vijzelstraat 30
Description


Built in a style referred to as Brick Expressionism, this monumental office building on Vijzelstraat was originally home to the

Nederlandsche Handel-Maatschappij

(NHM) or Netherlands Trading Society. Regarded today as a heritage building, it is described on the Rijksmonumenen.nl website as follows, (excuse the clumsy translation).

" Bulky, flat capped OFFICE ... two floors of which, the top two layers, each jump back, and rhythmically modeled facades through the use of pilasters, bays, niches and corner pads, and by the use of alternating brick and granite in a block and band pattern ...

The approximately 100 m long frontage ... contains five bay window-like expansion in which the windows, and in the intervening parties are always in groups of four

....

The approximately 32 m. long facade on the Herengracht has seven bays, each filled with two coupled windows per floor, and a bay window-like extension above the side mounted service entrance."





"... on the fourth floor a group of statues depicting JP

Coen H. W.

Daendels and J. B.

Heutsz, designed by H. A.

van den Eynden."




"... on the corner of Keizersgracht a sculpture by J. Mendes da Costa, representing Industry and Commerce."

The building's Wikipedia entry says that it, "... is centered around two light-courts, and its inner details bear some resemblance to works of American architects Frank Lloyd Wright and Louis Sullivan. Almost all interior parts of the building, such as floor mosaics, frames of the airducts, telephone booths, room decorations, as well as its furniture, were also designed by de Bazel."


After NHM left the building, it was taken over by the Algemene Bank Nederland and the Dutch bank ABN AMRO. In 1999 it was bought by the City of Amsterdam and renovated before reopening in 2007 as the city archives and home to the Bureau Monumenten & Archeologie.



Close Window