Davina House, Clerkenwell, London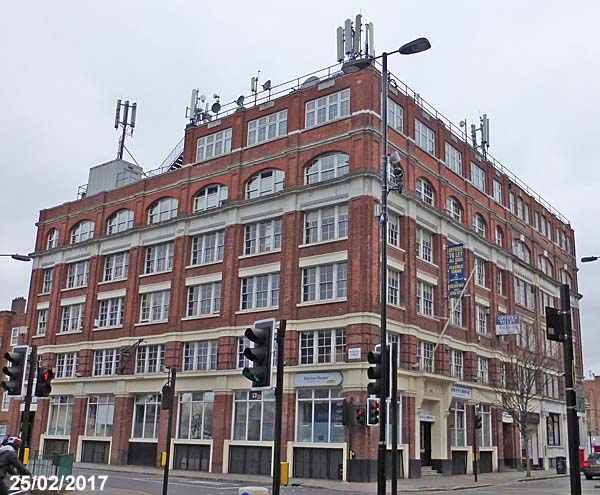 Architect


Hobden & Porri, and the builders W. J. Fryer & Co

Date Built

1910 - 12

Location

Goswell Road and Percival Street

Description

Davina House occupies the corner of Percival Street and Goswell Road in Clerkenwell. It stands 7 bays wide on Percival Street and 5 on Goswell Road. It was built originally for James Badcock & Son Ltd, manufacturers of children's clothing.

Between 1911 and 1913 the building was extended along Goswell Road. This time the architect was F. Boreham, Son, & Gladding and the contractiors were Kirk & Kirk. The new building was of the same height but was somewhat more decorative.



At street level there was a small post office (possibly indicated by the presence of the pillar boxes) and on the corner with Sabastian Street a branch of the London Joint Stock Bank (later the Midland Bank). The intertwined initials LJSB can still be seen above the corner entrance.



The buildings original commercial function is illustrated by the "taking-in" doors on the Sabastian Street side.

The british-history.ac.uk website says of this combination of buildings that, "... The upper factory floors and a full-height rear wing were taken by various manufacturing tenants, including French Bros Ltd, 'ostrich feather manufacturers'. The top (sixth) storey on both builds, extending across all but the southwest section facing Percival Street, was added in 1914–15, under Boreham, Son, & Gladding, with Pickering & Son as contractors. In 2004–7 the upper storeys of Nos 151–7 were converted to student accommodation by the specialist company Studius."

Close Window