Built in 1911, Copenhagen Central Station is located across from the Tivoli Gardens with entrances on Bernstorffsgarde and Banegardspladsen (see above). The station is served by S-trains and regional trains as well as InterCity and international trains with departures to major cities all over Europe. By 2018 it will also be part of the City Ring and the Metro's fully automatic trains will stop there.

The building was designed in the same style as Copenhagen's Town Hall. Passengers enter into a large open concourse that runs at right angles to Bernstorffsgarde. It contains the ticket office and a wide variety of passenger services including cafés and retail outlets.

(Note: the station doesn't curve as it appears to in the image above.)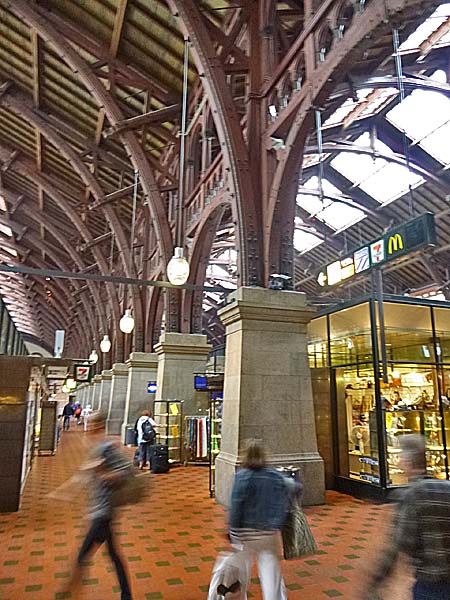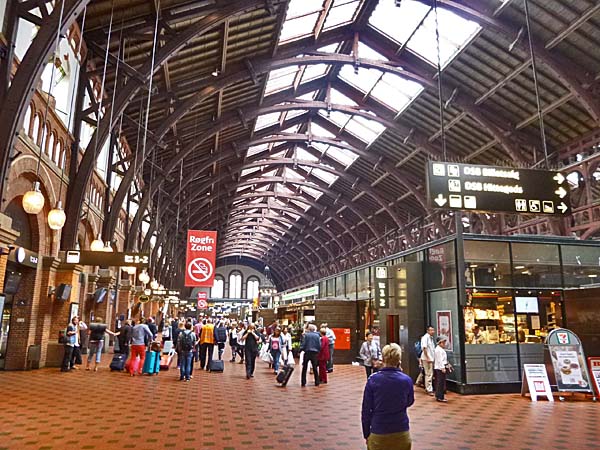 Apparently, it also has a special lounge for the Royal family with departure from the Royal Saloon on platform 1. The 12 platforms are covered by shed rooves that run parallel to Bernstorffsgarde.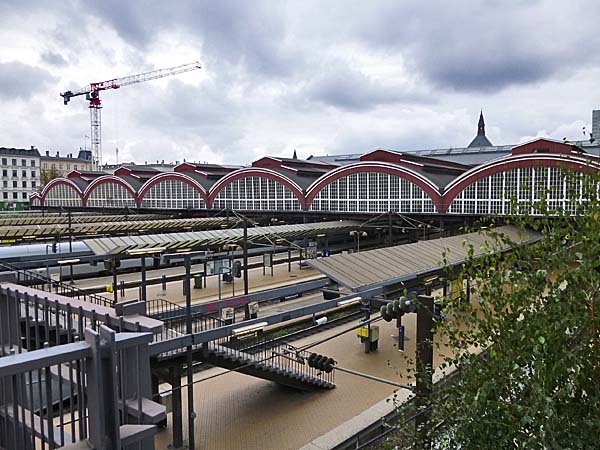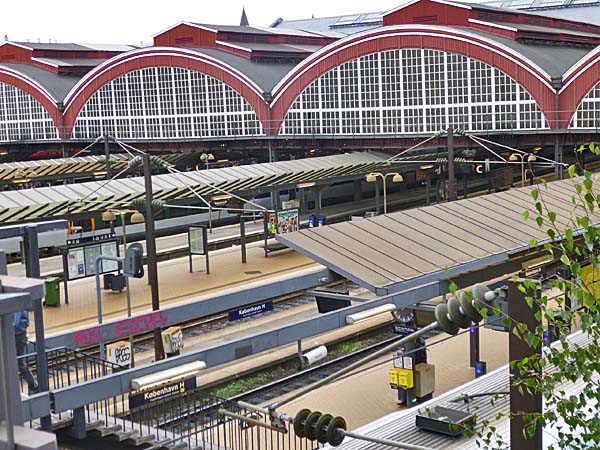 The station has undergone several overhauls. In 1980 lifts and escalators were installed and the shopping arcade and restaurant facilities were added. In 2004 a major restoration of the station began to bring the platforms up to international standards.
The copenhagen.net website says that when the station was inaugurated in 1911 there were 36 trains departing each day. Today more than 1470 different trains leave the station daily. "On an average day almost 110,000 commuters and visitors are utilizing the property of the station facilities. And everyday between 3000-3500 bicycles are parked alongside the station area. Every month 310,000 train tickets are sold - which makes it a total of almost 3.8 million tickets a year. The entire staff, including the working force operating the trains at Copenhagen's Grand Central Station, amounts (to) 1800-2000 employees."