Casa Batllo's origins extend back to 1874 but when Antoni Gaudi refurbished the original building between 1904 and 1906 the result was startling. The Barcelona Turisme website sums it up when it says, "... A simple glance gives rise to myriad interpretations. The discs of multicoloured glazed-ceramics and broken shards of stained glass, placed with precision, depict flowers and water lilies and play with the reflections of the sunlight. This vast impressionist painting is often interpreted as the surface of the rolling sea in the heart of Passeig de Gràcia."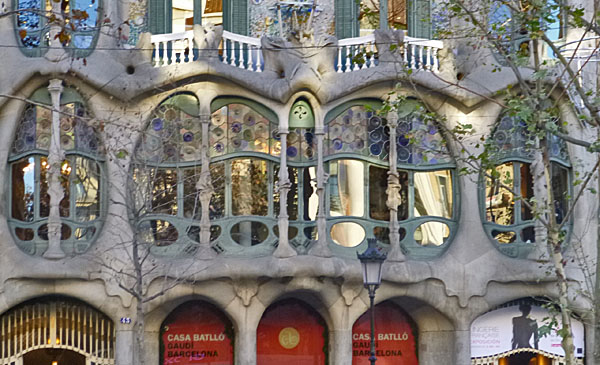 The facade culminates in a colourful tiled roof that resembles the back of a dragon. The turret beside the dragon's back is topped by a cross, suggesting that this is in fact the lance of Saint George (the patron saint of Catalonia) being plunged into the back of the dragon.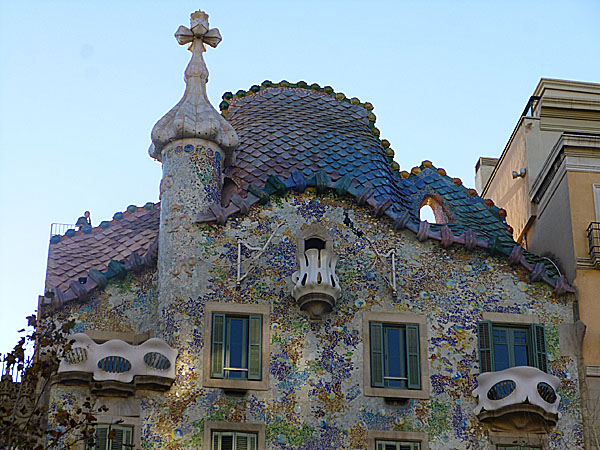 The mask-like balcony railings are made of wrought iron cast in a single piece and secured by two anchor points.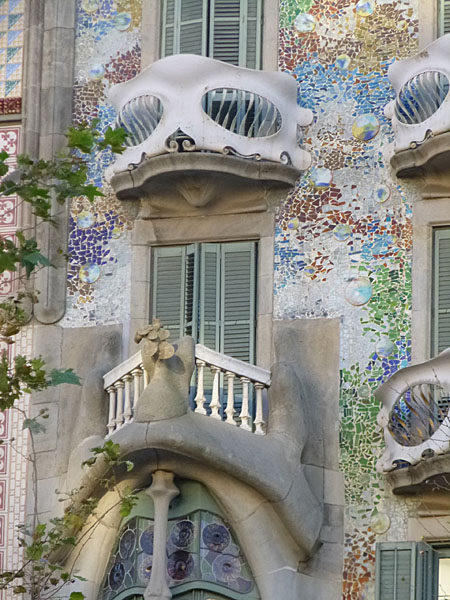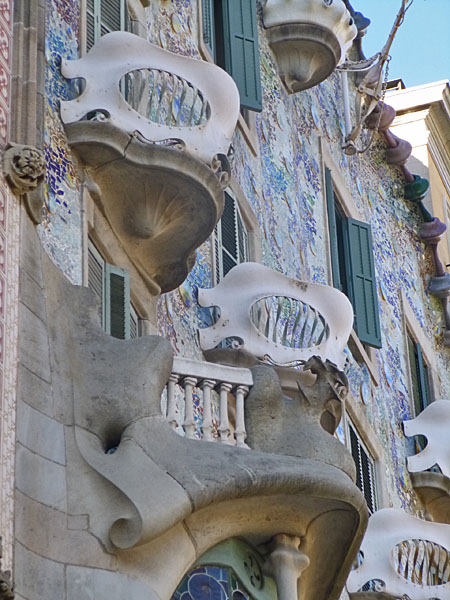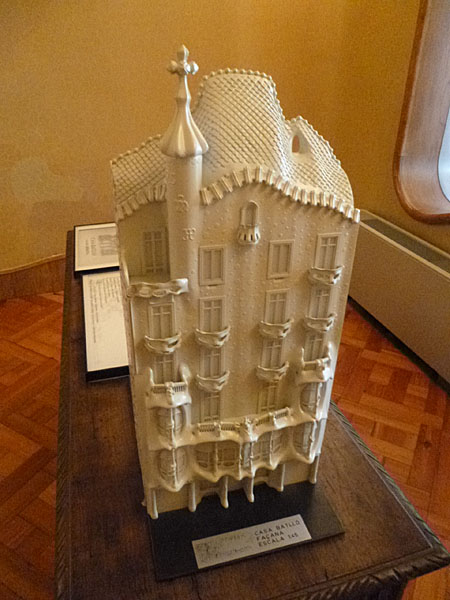 ********************
- Take a walk through the building -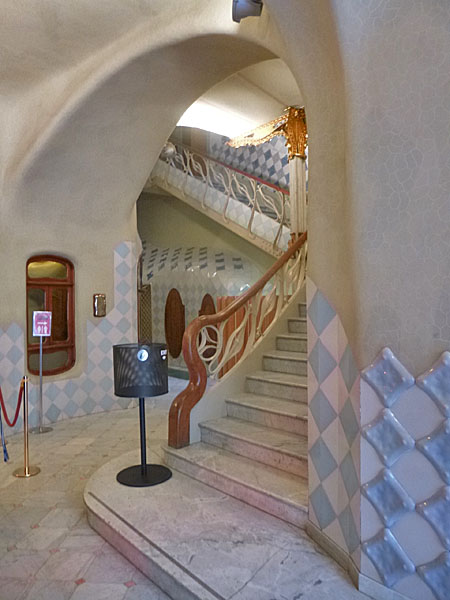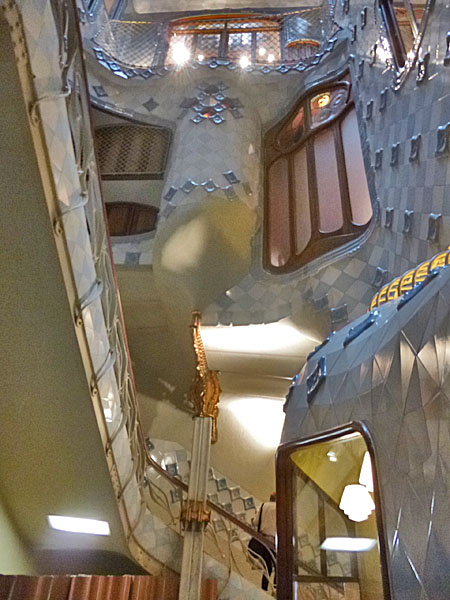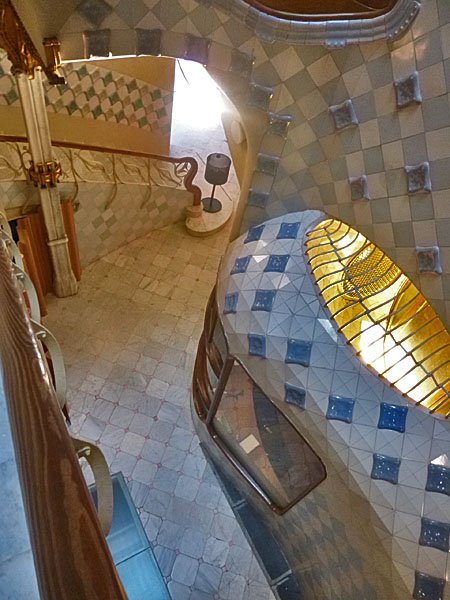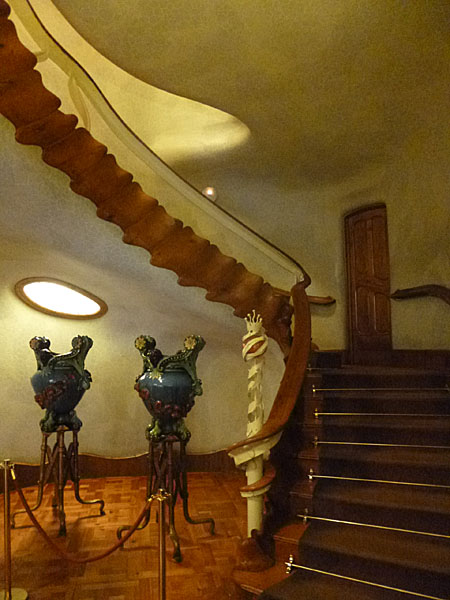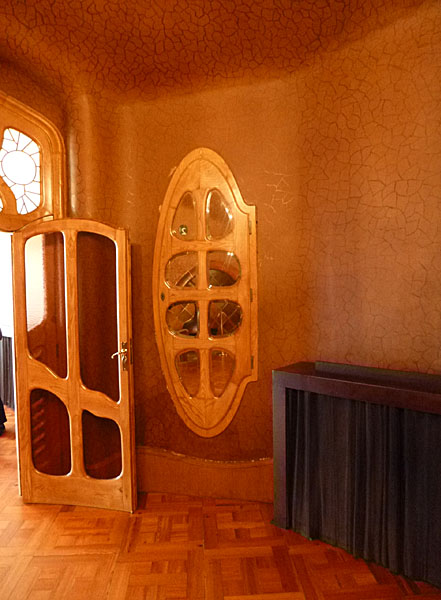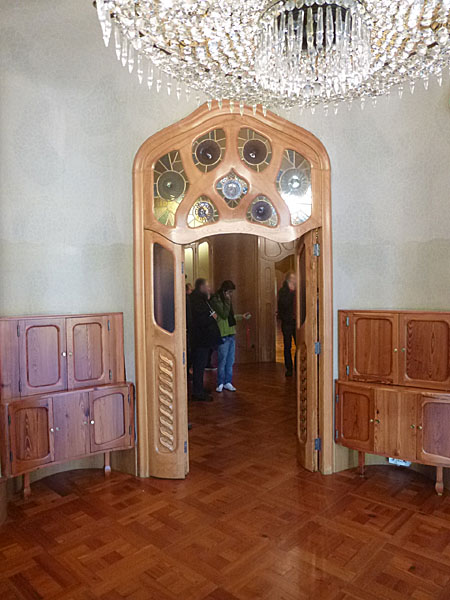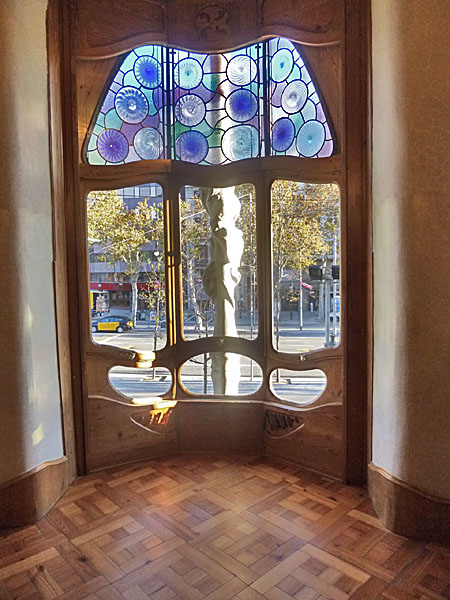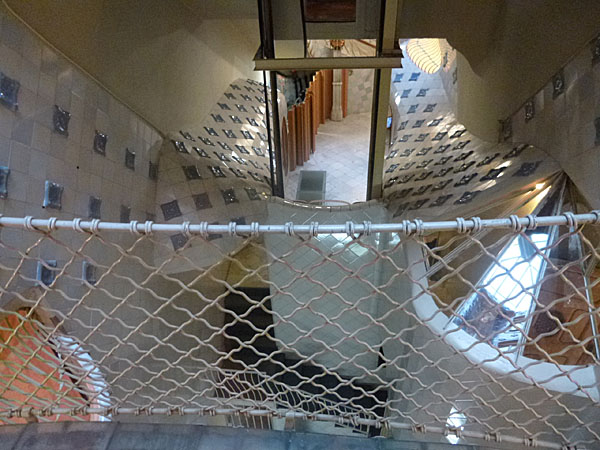 The Casa Batllo website explains that, "The building well is an extremely important part of the refurbishment. Gaudí enlarged the light well and covered the walls entirely in relief glazed tiles in varying shades of blue, which are darker in colour at the top and lighter towards the bottom, thus achieving an even distribution of the light. The windows are smaller higher up where more natural light can enter, whereas they get larger as you move further down. Below the windows there are wooden slits which can be opened and closed to ensure good ventilation."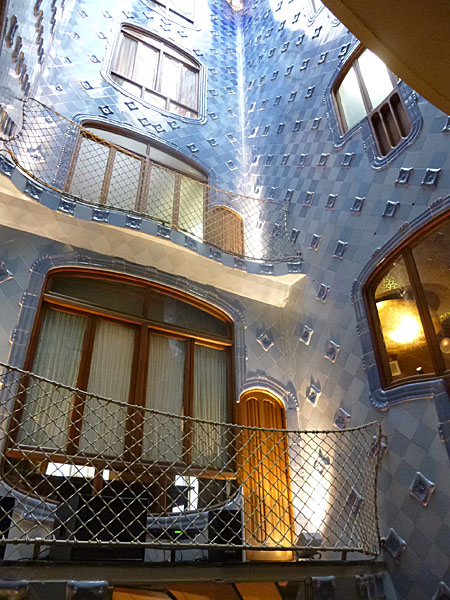 "In the middle of the light well he installed the lift, with its fine original wooden cabin which still functions today."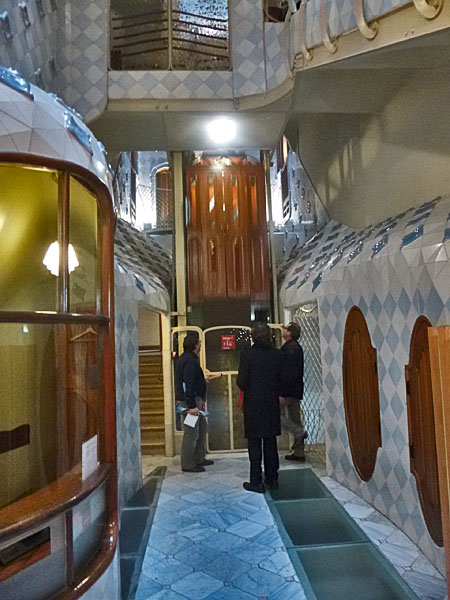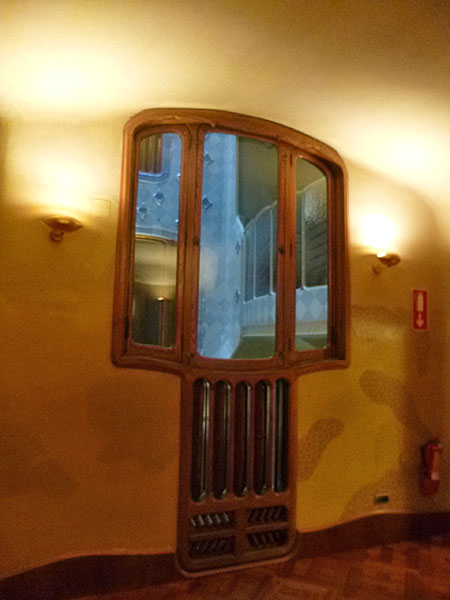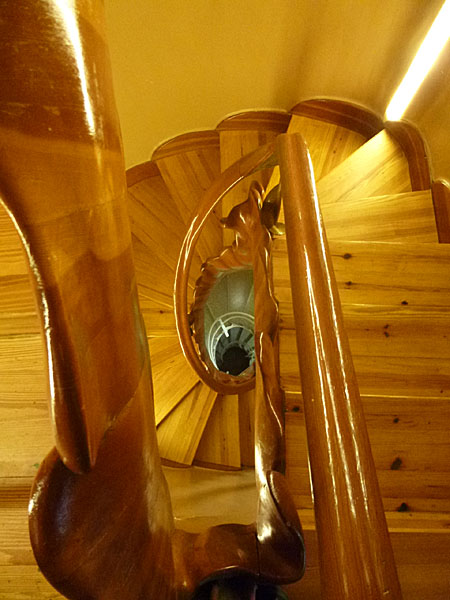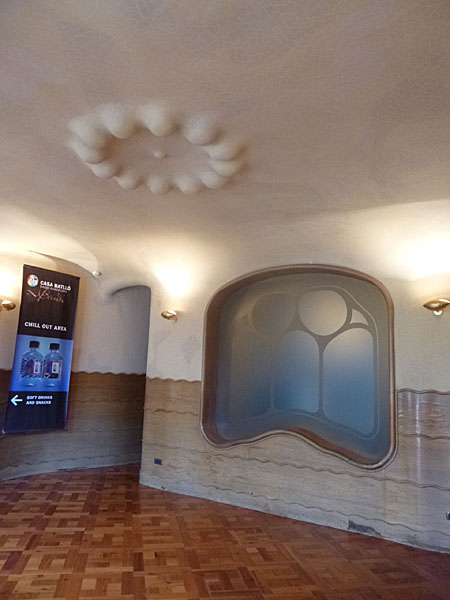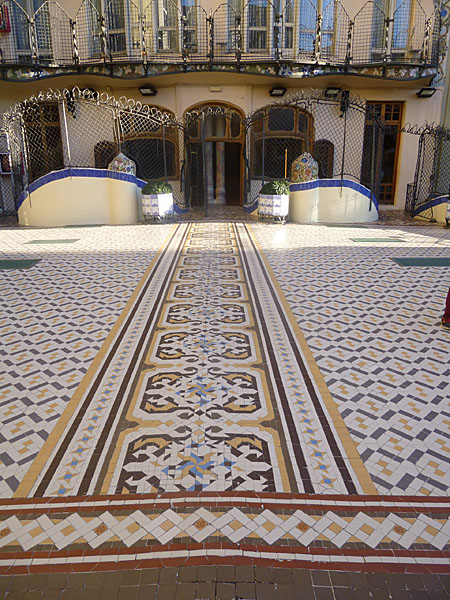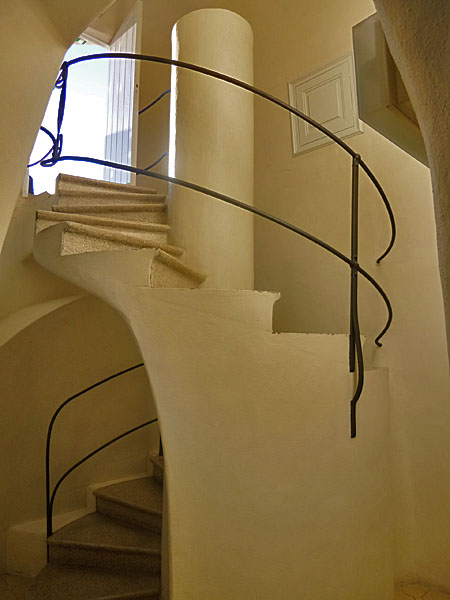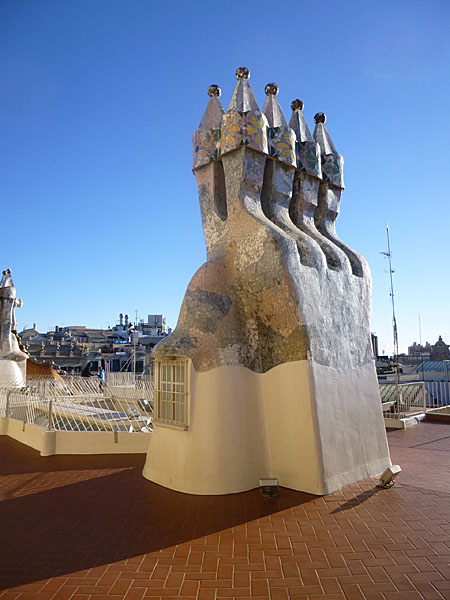 "The vast central skylight is composed of huge pieces of iron and glass panes, and it spans the large building well which was widened by Gaudí. It is this huge skylight that allows a cascade of light to enter and illuminate the whole building well."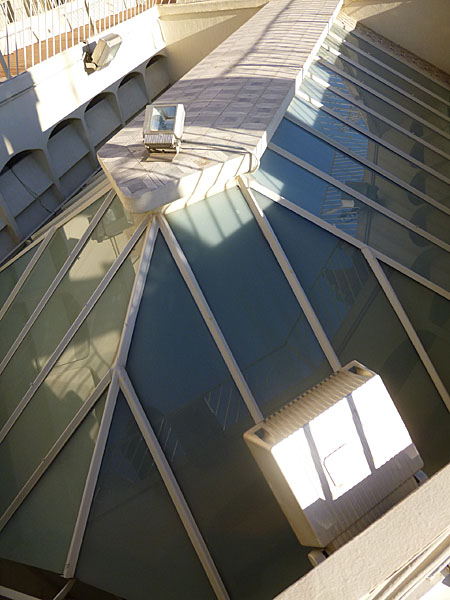 "On the flat roof, the prominence of the dragon's back, which is so important to the overall artistic equilibrium of the facade, gives way to the four groups of graceful chimneys. Behind the aesthetic aspect, functionality is ever-present: the wind cannot obstruct smoke from escaping thanks to the chimney caps on the tops of the chimneys, which are tiled with the same trencadís glazed mosaics as the facade. Gaudí covered the curved surfaces with cut tiles, in the style of the Byzantine builders."