The Heritage Building website says of this building's exterior that it is clad in, "... T-P Moka brick made by the Saskatchewan Clay Products Company formerly of Claybank some 60 kilometres from Moose Jaw. .... Different tones of brick were used to create ornate geometric patterns on the face of the building. The prominence of the building is also furthered by the use of a parapet with signage indicating its date of construction, pilasters, large street level windows and a belt course with dentils." It also has a replica steel canopy.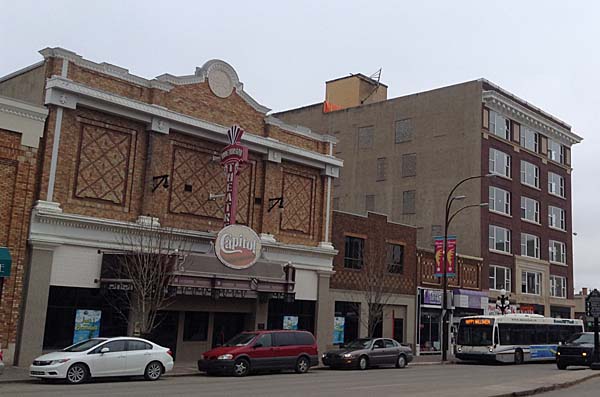 (The image above was generously donated by Marcia Wiman)
After delays brought on by the onset of World War I, the building project was taken over by the Allen Theatre Company and it opened finally in 1916. At that time it was Saskatchewan's largest theatre. It became the Capitol Theatre in 1922 and seven years later it was equipped to present talking pictures. Between 1983 and 2001 it operated as a three screen movie house. In 2003 it was reinvented as the Moose Jaw Cultural Centre with facilities capable of hosting live performances.
The Cultural Centre encompasses the Capitol Theatre and the buildings that flank it, the former Army & Navy store and the former A&B Buildings.