Camden Palace Theatre, London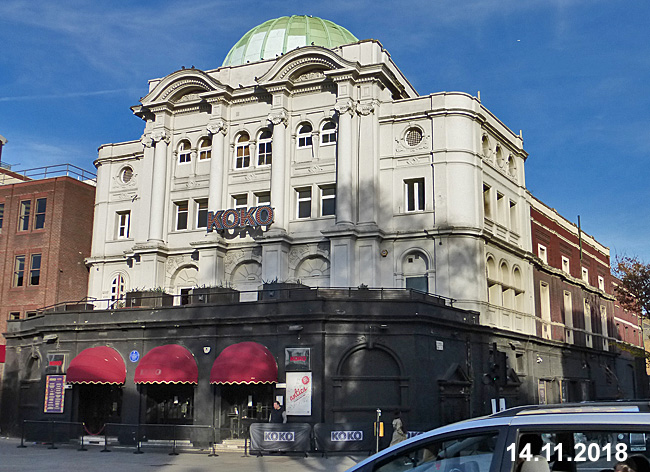 Architect

William George Robert Sprague
Date Built

1900 - 1901

Location

Camden High Street

Description

This theatre building in Camden was designed by W G R Sprague, an architect who started his career as an articled clerk to the famous theatre architect Frank Matcham. Sprague went on to design a number of theatres and music halls mostly in London. The Camden Palace is Grade II Listed and features a, "... Symmetrical facade in Baroque pastiche style. ..... 4 main storeys. 5 bays. Single storey entrance foyer with pilasters supporting entablature and blocking course. Round-arched openings (outer bays blocked) with pilasters supporting architraved heads with keystones." The inside was, "... symmetrically planned with elaborate foyer behind main entrance with Ionic pilasters and moulded ceilings. Overmantel with bronze bas relief plaque of Ellen Terry. Cantilevered dress circle and balcony, now without seats and with steps to ground floor. Lightly modelled plaster work by Waring & Gillow in a mixture of baroque and rococo ornament. Marble proscenium arch surmounted by segmental pediment with recumbent figures and, within the tympanum, a mask surrounded by rays. " It was opened by Ellen Terry in December 1900 as the Royal Camden Theatre.



Since 2004 the theatre has been known as KOKO a music venue that says that it has, "... hosted album launches from Coldplay and Madonna, and seminal performances from Prince, Kanye West, Bruno Mars, Red Hot Chili Peppers, Amy Winehouse, Noel Gallagher, Paul Weller, J Cole, Skepta," When I took these images it was closed for refurbishment and is scheduled to reopen in Spring 2020. Below is a blue plaque that is attached to the building commemorating the last Goon Show that was recorded there in 1972.



Close Window