Rochdale Town Hall


Rochdale Town Hall was opened on September 7th, 1871 with a ceremony befitting this fine Victorian building designed by William Crossland. When proposed in 1864 it was recommended that £20,000 be spent on a suitable building. When it was completed, the remarkable building with its 240 foot high wooden spire topped by a gilded statue of St. George, cost £155,000.
Twelve years after it was opened a fire, visible 10 miles away, destroyed the tower. The building remained spireless for 4 years before Alfred Waterhouse, the architect responsible for Manchester Town Hall, completed a fine stone replacement.
Rochdale Town Hall is still highly regarded for its outstanding stained glass window, grand staircase and the hammer beam roof in the Great Hall.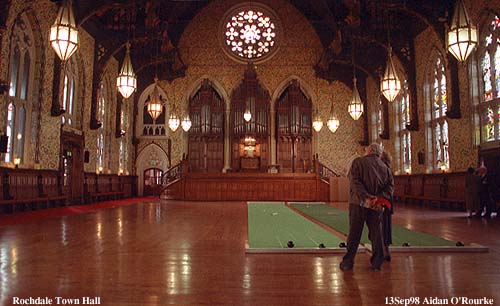 The image above is shown with the permission of Aidan O'Rourke