Stuart Harry Smith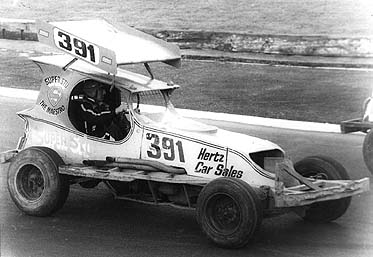 When Stu Smith started racing stock cars in 1965, there was only one northern oval track for stock car racing, at Belle Vue. However, the Belle Vue Track had a waiting list for prospective drivers and Stu had to go to Long Eaton, in the Midlands, to compete. However, he soon drew enough attention to himself that an opportunity to drive at Belle Vue came his way. In 1966 Stu started racing a car that had been owned by Albert Griffin. It was generally regarded as undriveable, but the teenage Smith took it on and with it he either won or crashed out spectacularly. To compliment his growing reputation, Stu painted the name "Wildcat" on the side of the car.
Stu stuck with Griffin's car until 1969 when he constructed a longer version of that vehicle and powered it with the Buick engine that he had put into the Griffin car in 1967. The first time Stu drove this new car he won and he went on winning.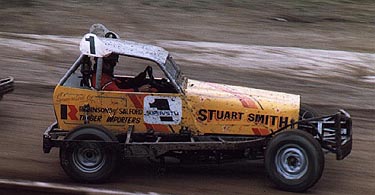 By the time he finally retired from the sport in 1986 Stuart Smith had won 500 main events, taken 13 National Points Championships and won 6 World Championships. He actually came close to a 7th World Championship and an unprecedented four in a row only to be robbed of the trophy in the Word Championship Final race in 1986. A collision with another car during the race caused Stu's car to fly through the air and come to a standstill. He fought to get back in touch with the pack and managed to claw his way into 3rd place but missed the 4th consecutive championship.
Stuart Smith's stock car racing career spanned more than 20 years. It was a period in which he dominated the sport in a way that no other drivers had or perhaps ever will again. In every way he deserved the name "Super Stu".
The photographs of Stuart Smith are shown with the permission of Les Cotton.