James Kay-Shuttleworth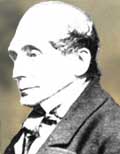 James Kay was born in Rochdale on July 20th, 1804. Educated at Edinburgh University and in Dublin, he went on to become a physician practicing in Manchester. Manchester, like London before it, was discovering that the population explosions within their bounds were spawning outbreaks of disease and, in particular, cholera. Kay was active among the slum dwelling poor in Manchester and based on his experiences wrote "The Moral and Physical Condition of the Working Classes Employed in the Cotton Manufacture in Manchester". This publication is credited with stimulating the Manchester corporation to make improvements in its sanitation system.
Kay was a political activist who involved himself in the repeal of the Com Laws and later the Poor Laws. He was prominent in the Lancashire Liberal Party and ran an unsuccessful attempt to gain election to parliament in 1874.
Kay's name is associated with the efforts to introduce universal schooling and in 1839 he was appointed to the Education Committee of the Privy Council. In conjunction with E. Carleton Tuffnell, he founded St. John's in Battersea, the country's first teacher training college.
In a reversal of the modern trend with names, James Kay changed his name to James Kay-Shuttleworth after marrying the heiress Janet Shuttleworth, of Gawthorpe Hall, in 1842.
Kay-Shuttleworth wrote a number of books and pamphlets on social reform and two novels. These included Public Education (1853), Scarsdale (1860), Four Periods of Public Education (1862), Thoughts and Suggestions on Social Problems (1873), and Ribblesdale (1874).
James Kay-Shuttleworth died on May 26th, 1877.