Rochdale
-- A Walk Around Rochdale Town Centre --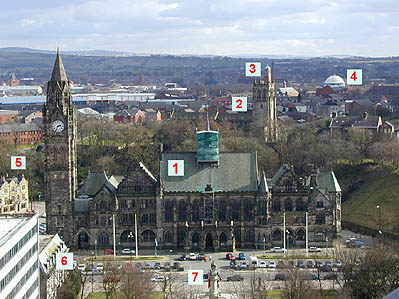 The image above is shown with the permission of Jeff Mills
The rapid growth of an increasingly industrialised Rochdale in the 18th Century led to the construction of a new church across the River Roch from St. Chads. St. Mary's Church was consecrated on June 26, 1744. The church served its congregation for 167 years but in 1911 a new building was consecrated on the site of the original church (see above). Designed by Ninian Comper the new church featured impressive stained glass windows and fine wood carvings. In April of 2001 an extensive program of restoration was underway in St. Mary's.

Above: The former Regal Cinema built in 1938.
Now a Weatherspoon's pub the "Regal Moon".




Little is known about the origins of the Spread Eagle Hotel. It may have been a small home-brew shop which eventually took over the two adjoining houses. The notorious Whitworth Doctors held a surgery in one of the rooms during the 19th Century, the patients passing their time in the bar until summoned to the surgery by a knock on the wall. The hotel was also a terminous for the horse bus which travelled from Lancashire to Yorkshire.