Rochdale
-- A Walk Around Rochdale Town Centre 2001 --


The image above is shown with the permission of Jeff Mills
| | |
| --- | --- |
| 1. Former Lancashire & Yorkshire Bank | 2. The Butts and South Parade |
| 3. Former Oldham Joint Company Bank | 4. Chamber of Commerce & Post Office |
| 5. The Memorial Gardens | 6. The Esplanade |
| 7. Rochdale Town Hall | 8. Art gallery and museum |
The centre of Rochdale contains a number of old buildings, although it has to be said that fire has destroyed some, including the Theatre Royal. The Lancashire and Yorkshire Bank opened for business on July 4th, 1896. It later became Barclays. Across the street was the Oldham Joint Company Bank which opened almost 8 months earlier. Built of grey granite and Yorkshire stone, it later became the Midland Bank.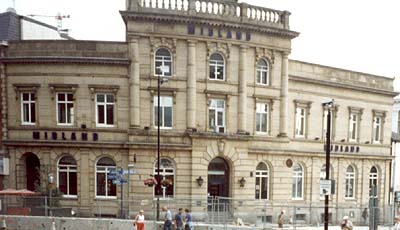 Below you can see Yates Wine Lodge in the Rochdale Vitners Co. building on Yorkshire Street. Yate's Wine Lodges were established by founder and managing director, Mr Peter Yates, in 1884 - the first was in Oldham. The Lodge in Rochdale was one of the earliest bought by the company, who also operated a subsidiary firm called the Rochdale Vitners Company. The slogan was: "Wine direct from the growers to the public." The premises in Rochdale have always been known as Yates's, but regulars with good eyesight may recall the sign included the old name, The Blue Bell. Over the modern shop window of the Wine Lodge (Blue Bell Hotel), Yorkshire Street, is an ornamental and dated downspout, inscribed with the year 1745.
One of Rochdale's oldest buildings is the present Lloyd's Bank in Lord Square. It originated in 1705. It is believed that the building stands on the site of the market square in the original Rochdale settlement. The building was first known as the Union Buildings; it became the headquarters of Jacobite rebels in 1745. In later years it was an inn, and then in the late-19th century it became shops and offices. Lloyd's Bank Limited took possession in 1930.


Below is the Former Lancashire & Yorkshire Bank built in 1896.



As industrialization increased in Rochdale, the town decended into a level of squallor that would be hard to imagine today. The spacious area around the town hall today was once a labyrinth of sub-standard housing.
Parker Street ran from the river up to the town steps which led to the Parish Church. Those steps climbed up a bank on which a number of buildings were located. Today only one half of Parker Streets exists and it has an unrestricted view across the downtown parking lot to the town hall. The town steps rise through parkland. It was down these 122 steps that in 1830 thousands of striking weavers clad in clogs "thundered" to a meeting on the Butts.
The Flying Horse Hotel has a long history in the town and is associated with John Collier, "Tim Bobbin", among others. A day spent in the Flying Horse ended for Bobbin with his irate wife throwing a copy of Dr. Johnson's Dictionary to the furthest corner of the room and pummelting him about the ears.

Yorkshire Street - for many years Rochdale's shopping street.




The Town Flats behind the Memorial Gardens.