Hamlet Nicholson
Born in Rochdale in 1810, Nicholson's fame flows from the fact that he patented and manufactured the compound cricket ball that is still used in the modern game of cricket. As his gravestone opposite indicates, Nicholson lived to be 89 years of age dying on June 17, 1899. He was buried in the churchyard of St. Chad's, the Rochdale Parish Church.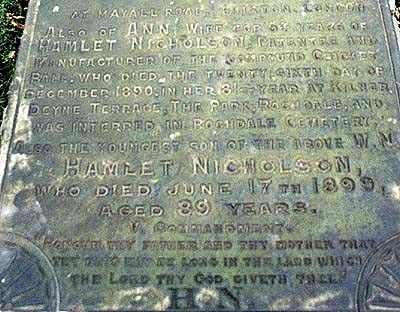 All the material on this web site is © David Boardman, unless otherwise stated, and may not be copied, downloaded or otherwise reproduced or retransmitted without the written permission of the webmaster.
Any contravention of the copyright of others is unintentional and will be corrected immediately when brought to the attention of the webmaster.