Jock McAvoy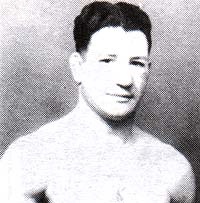 Born in Burnley in 1907, Joseph Bamford started boxing at the age of 20 to supplement his family's income. By this point in his life Bamford was living in Rochdale and fighting under the ring name of Jock McAvoy. By 1933 McAvoy had become the British Middleweight Champion by dethroning Len Harvey. Less than a year later McAvoy, by now known as the Rochdale Thunderbolt, knocked out the reigning World Middleweight Champion Babe Risko. Unfortunately for Jock, it was a non-title fight.
After unsuccessful attempts to win both the World Light Heavyweight Title and the British Heavyweight Title, McAvoy did win the British Light Heavyweight title.
Jock McAvoy's fighting career lasted 18 years and during that time he had 147 bouts, winning 134 of them. He retired in 1945, but unfortunately as with many boxers, his retirement years were undistinguished and rather tragic. At one point he was supplementing his income by selling pictures of himself. In 1951 he contracted polio, and he spent his last years in a wheelchair. He died on his birthday in 1970 at the age of 63.