John Livsey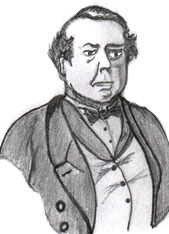 It would be foolish to suggest that there has been anyone from Rochdale who could come close in popularity terms to Gracie Fields but John Livsey must be a close second. Born into a family of blacksmiths on June 17th, 1815, Livsey was educated locally until the age of 15 before a brief period at a modest boarding school. His working career was undistinguished but his involvement in local politics was far from that.
John Livsey was a man of the people. His efforts on behalf of such issues as the Poor Laws, working hours in the mills and child labour garnered recognition and admiration among Rochdale's working-class. It did little to endear him though to the middle-class mill owners, and he and John Bright were often at loggerheads over such issues.
Livsey was a contemporary of James Taylor the ultra-radical who operated a hatting factory in Spotland Bridge and preached at the Clover Street Unitarian Chapel. Among Taylor's congregation were most of the 28 original Rochdale Pioneers who founded the Rochdale Equitable Pioneers Society. Although not one of the 28, John Livsey was one of those who set the groundwork for the movement.
Livsey died on January 25, 1864, at the age of 48. When his funeral cortège traveled through Rochdale, the streets were lined by 40,000 people who came out to honour him. G. J. Holyoak, the national Co-operative leader said of Livsey after the funeral, "Tom Livsey lived among us, fought for the people like a hero and we buried him like a king." Livsey requested that he be buried in Rochdale cemetery next to James Taylor.