Jack Howarth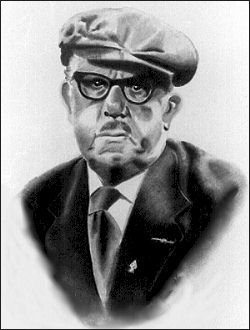 Jack Howarth was born on the 19th of February, 1896, in Rochdale, son of the Lancashire comic Bert Howarth. Jack lived at 96 Mitchell Street and went to Board Council School with Gracie Fields. With a break for the First World War, Jack spent his life in the theatre in one form or another.
He started out selling programs at the Theatre Royal in Rochdale and finished his career as Albert Tatlock in Coronation Street.
During WWI Jack joined the Lancashire Fusileers. After he was demobbed, he ran a small cinema for a while and then embarked on an acting career. He toured in the original stage production of Dracula and Frankenstein, and it was during this period that he met and married the actress Betty Murgatroyd. By 1935 he was running a theatre in Colwyn Bay, and when war broke out, he found himself playing many of the roles in the play.
He was cast in the role of Maggs in the long running radio soap opera Mrs. Dale's Diary, a character he played for 14 years. He also made over 100 television appearances and was cast in eighteen films, including Hobson's Choice in 1953.
He was a founding member of the Coronation Street family appearing in the role of Albert Tatlock in Episode 1 on December 9, 1960. In those early years the Rochdale man was often pitted directly against the Street's hair-netted dragon Ena Sharples.
In all Jack made 1700 episodes of Coronation Street, appearing for the last time on January 25th, 1984. He was 88 at the time and he died 2 months later. Over the years he put a lot of energy into raising funds for children through the Stars Organization for Spastics. In 1983 Jack was awarded an M.B.E.
The image of Jack Howarth is shown with the permission of Paul Wilkinson from his Celebrity Portraits web site.