The Early Years in the Parish of Rochdale


Just how old the Rochdale community is remains to be shown, but under the name of Recedham it was mentioned in the 1086 Domesday Survey. St. Chad's, the Rochdale Parish Church, had its first vicar appointed in 1194, but there is physical evidence that a "church" existed on the site long before the present one. In 1251 the town was granted a market charter. Rochdale is indeed a town of some antiquity.
The status as a market meant that Rochdale became a trading centre for the predominantly rural population that lived on the surrounding moorlands. The introduction of sheep into the local agricultural economy started a woolen industry founded on farm-based hand spinning and weaving.
The trading of wool and cloth took place in public houses throughout the town on market days. Local weavers produced a range of woolen cloth including: kerseys, "a coarse woolen cloth of light weight and often ribbed"; baizes, "a coarse woolen stuff of plain colour with a nap on one side, used for table covers"; and most importantly, flannel, "a soft loosely woven cloth". Most of the cloth woven in the Parish of Rochdale went for export to Europe and the Americas. If Manchester can be hailed as the place where "Cotton was King", then Rochdale was the place where "Flannel was King". Cotton didn't become the dominant textile in Rochdale until 1830.
The change from a hand-operated cottage-based industry to a machine-operated factory-based industry brought great wealth and a lot of misery to the area.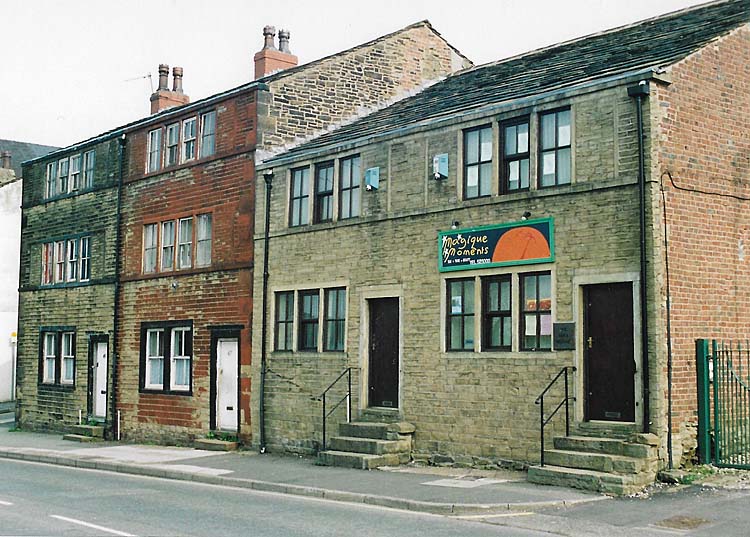 The first textile mills used water-power and in some cases were converted corn mills located by the rivers that rushed down off the surrounding hills. The first chimney went up in Rochdale on Hanging Road in 1791 and heralded a change to steam power. That first chimney was soon joined by many others and the pollution of the air was only surpassed by the squalor in which the growing population lived.
The mechanization of the woolen industry was slower than the "progress" seen in cotton. Consequently, the way in which Rochdale developed was somewhat different from some of its neighbours to the south and to the north in the Rossendale Valley.
As the farmer-weavers upped stakes and moved into town, to take advantage of the opportunities for trade weavers, cottages sprang up around Rochdale. Master weavers built these three storey buildings with a characteristic array of windows on the top floor. The windows provided the light required by journeymen weavers, employed on a piecework basis, who operated the looms located on the top floor.
The move into town saw Rochdale grow from 14,000 in 1801 to 23,000 by 1821.