Julie Goodyear MBE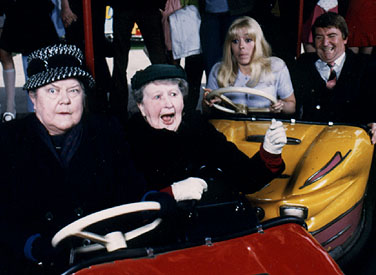 Better know to the world as Bet Lynch, the brassy blond landlady of Coronation Street's Rover's Return pub, Julie Goodyear was born Julie Kemp on March 29, 1942 in Heywood, Lancashire.
Julie's father left soon after she was born, and when her mother Alice remarried, it was to Bill Goodyear. Ironicaly, Bill was the publican at the Bay House in Heywood.
After a 3 year marriage to Ray Sutcliffe which produced a son Gary, Julie set out on a modeling career. She was named Miss Britric and Miss Astral Cream, and in 1966 her modeling work almost certainly led to a role in a comedy series called "Pardon the Expression". This was soon followed by an initial 6 week appearance on Coronation Street as a factory girl at Elliston's Raincoat Factory.
After other roles on the stage and television, she returned to Coronation Street, where she became a fixture. Julie is shown above on a cast day-out at Belle Vue. Julie, with cigarette in hand and Len Fairclough at her side, is bumping into Ena and Minnie.
Julie's life could only be described as eventful. She had a number of short lived marriages and several almost marriages. She captured the interest of the tabloids on more than one occasion , often because of her less than conventional relationships. In1979 she had a brush with cervical cancer. This experience prompted her to work towards setting up a smear testing centre in Manchester and today the Julie Goodyear Laboratory operates at the Christie Hospital in that city. Julie's long stay on Coronation Street came to an end in October 1995.
Today Julie lives on her Primrose Hill Farm. Her achievements were recognized by the National Television Awards in the form of a Lifetime Achievement Award and by Buckingham Palace with an MBE.