Anna Friel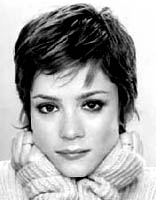 Anna Friel was born in Rochdale on July 12, 1976. As a teenager she started acting professionally on the British stage and by the time she was 14 she had her first television role in the BBC series "In Their Shoes". Appearances in Coronation Street and Emmerdale followed but it was her role as Beth Jordache in Brookside that brought her to the attention of the UK public.
The character, Beth Jordache, arrived in 'the Close' after having been sexually abused by her father. Later, Beth and her mother killed Mr Jordache with a hammer and buried him under the patio. As dramatic as those events were, it was the December, 1993, episode in which Beth kissed Margaret, the neighbours' nanny, which grabbed enormous media attention. The eight second kiss was the first lesbian kiss on British television. Mal Young, the producer of Brookside at the time, said, "When the idea for the storyline of Beth's sexuality was born, we knew that Anna could do it." Anna's character was later arrested, and died in custody of a heart attack. Friel was written out of Brookside.
Friel's movie debut came in 1997 in "The Land Girls", a World War II drama, that also featured Rachel Weisz and Catherine McCormack. The following year, Friel appeared in two more films, "The Stringer" and "Rogue Trader". Her performance in the latter, as Ewan McGregor's girlfriend, won great acclaim.
Anna has also received positive reviews for her work on the stage. She won a Drama Desk award for Best Supporting Actress in Patrick Marber's "Closer", which played in London and Broadway.