Gracie Fields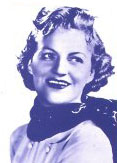 If you were set the task of drawing up a top ten list of important people who were born or lived in Rochdale, it might be difficult to decide which one was the most influential, the one who made the greatest and most important contribution to the development of society. It would be difficult, though, to conclude anything other than the fact that Rochdale's most famous child was Grace Stansfield. Under her stage name of Gracie Fields she became one of the wealthiest, most famous and best beloved British performers of her era. Gracie took the Rochdale voice to the world and brought smiles to the faces of millions around the world.
Grace Stansfield came into the world in a room above a fish and chip shop on Molesworth Street, Rochdale, on a bitterly cold January 9th in 1898. Grace was the first child of 19 year old Jane (Bamford) Stansfield and her husband Fred, an engineer. The room over the chip shop was Fred's mother's home and the young Stansfield family lived there with her.
As a young child Grace would accompany her mother to the Rochdale Hippodrome where Jane had a job as cleaner. The young mother also supplemented the family income by taking in washing for the theatricals, so Grace and Jane were regular visitors at the Hippodrome to pick-up and deliver laundry.
Gracie's singing ability was first discovered by one of these theatricals who lived nearby the Stansfield's. She overheard Gracie singing a song she had heard on one of her visits to the Hippodrome and encouraged her to enter a singing competition which Gracie won. Ironically, at the time when the woman overheard this singing, Gracie was busy cleaning outside toilets for her neighbours at a rate of a halfpenny each.
After the first triumph Gracie Stansfield became a member of a number of singing troupes, but by age 10 she was working as a half-timer doing shift work as a cotton winder in a local mill and attending school on alternating morning and afternoon shifts. However, her tendency to provide impromptu entertainment for her fellow workers led to the sack after 3 months.
When she was 13, Gracie played the boards at the Hippodrome billed as "Young Gracie Stansfield, Rochdale's Own Girl Vocalist" and earned 35 shillings a week for a 2 week fill-in job.
At the age of 14 a theatrical manager advised Gracie that her name was too long for the stage and it was Jane who came up with Gracie Fields.
In 1915 Gracie secured a role in the review "Yes I Think So". The show's comedian was a Londoner called Archie Pitt. Gracie followed up this role with other reviews and in 1923 she married Archie Pitt.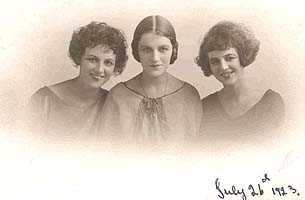 The Stansfield sisters - the image above is the property of Billie David and shown here with the permission of Bill Hanks
Gracie's audience increased enormously in 1931 when she made her first film "Sally In Our Alley" and the title song soon became Gracie's signature tune. In the next 15 years Gracie made 15 films including "Sing As We Go" which is generally regarded as her most popular. 20th Century Fox paid her £50,000 a picture for four films which rocketed her to the status of the highest paid female movie star in the World.
Gracie was awarded the C.B.E. in 1938 and that same year she was given the Freedom of Rochdale. On that occasion she said, "My work...has meant traveling the world over, to great places and small, but Home to me always means Rochdale and its gradely folk."
After divorcing Archie Pitt, Gracie married the Italian comedian and dancer Monte Banks in 1940. Controversy raged in the country when she subsequently moved to the USA. In fact, so influencial a figure was she that questions were asked in Parliament.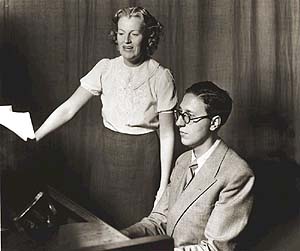 Above: Gracie with Harry Parr Davies her official accompanist. Parr Davies wrote many of her famous hits. They worked and travelled together extensively.The image is the property of Billie David and shown here with the permission of Bill Hanks
During World War II she toured extensively, entertaining troops. Arthur Askey who accommpanied her on some of these tours said, "My God she worked. Often when I'd had enough and they said, 'There's a bit of an isolated camp down the road,' she'd go. Twenty, thirty miles, she could be tired out, but she'd climb in the lorry or jeep or whatever transport was taking her, and when she got on the stage, no matter how rough and improvised it might be, she seemed to shed that tiredness and become a different person."
After the War she was welcomed back to the UK and featured in a series of morale-building radio shows, Gracie's Working Party. In 1933 she had bought a villa on the Isle of Capri with the money from her film successes, and during the 50s she went into semi-retirement there with her third husband, Boris Alperovic, emerging only for the occasional concert or record date.
In 1978 Gracie returned to Rochdale for the last time to open a new 670 seat theatre named after her. She told the audience that "At eighty it's wonderful having a theatre named after you - as long as I don't have to come back tomorrow to clean it." The Daily Telegraph reported the following day that "The Grand Lady of Rochdale, 80 year old Gracie Fields, sang her heart out at a concert in her home town on Saturday night."
In February, 1978, she was back in England to receive another honour. The girl from Rochdale was created Dame Gracie. "Dame Gracie - fancy that," she said in a letter soon after. "I hope my friends still think of me as "Our Gracie."
Our Gracie died in her home on the Isle of Capri on Thursday, September 27, 1979 at the age of 81.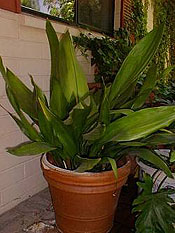 Among the songs that she will always be remembered for are: 'In My Little Bottom Drawer', 'Walter, Walter', 'I Took My Harp To A Party', 'Fred Fannakapan', 'The Biggest Aspidistra In The World', 'Sing As We Go' and 'Wish Me Luck As You Wave Me Goodbye', 'Around The World', 'Pedro The Fisherman', 'Little Donkey', 'La Vie En Rose', and 'Ave Maria'. and her signature tune 'Sally', first recorded in 1931.