John Collier
John Collier was born in Urmston outside of Manchester in 1708. He started out in the working world as an apprentice weaver but gave that up to become a traveling teacher. His travels took him throughout the Bolton, Oldham and Rochdale area, ending up in 1726 in Milnrow. As an assistant teacher, Collier settled in Milnrow, married and raised nine children.
The name Collier though is not the one associated with him. John Collier was known throughout the area as Tim Bobbin, and this eccentric character became famous for his satirical caricatures and his storytelling in the Lancashire dialect. Also known as the Lancashire Hogarth, Bobbin was a skilled cartoonist. Beyond these claims to fame, he was also known as a jobbing sign-writer, practical joker and "a devastating critic of the academic and the pompous."
John (Tim Bobbin) Collier died in 1786 and was buried in the churchyard of St. Chad's Parish Church. The inscription on his tombstone reads, "Here lies Tim and with him Mary, Cheek by jowl they never vary".
According to a story told by William Robertson, in "Rochdale and The Vale of Whitworth" first published in 1897, this harmony between the couple may not have been a constant feature of their married life. Robertson tells a story about the day that Tim was dispatched to Rochdale to buy a mutton leg for Sunday dinner. Tim, after a day in the "Flying Horse" with acquaintances, staggered, hiccoughing, into his Milnrow house laden with liquor and books and no mutton. Robertson reports that "Mrs. Collier seized hold of the bulky volume (a copy of Johnson's dictionary) and in her desperation hurled it to the furthest corner of the room, and pummelted Tim about the ears until his outstretched arms prevented her coming into closer contact with him."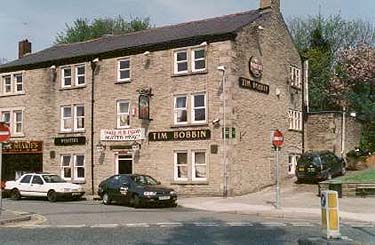 Today, Tim Bobbin lives on in his stories and caricatures and, perhaps appropriately, above the door of public houses.
---
The image of the Tim Bobbin pub is shown with the permission of Bryan Tenny of Milnrow-Village