The Midland Hotel stands on the western end of St. Peter's Square and across Windmill Street from what was Central Station. It is a railway hotel built by the Midland Railway as the counterpart to the St. Pancras Hotel at the other end of the railway, in London. The designer was the Midland Railway's architect Charles Trubshaw. Construction began 1893 and it was completed 5 years later. Reflecting its role as a railway hotel it had a covered walkway from Central Station to the Windmill Street entrance.

Below: is the hotel in the 1980s with a rather odd looking entrance.

The ground floor is built of a pink granite from Peterhead interlaced with bands of a darker Shap granite. The upper floors are built of brick faced with burmantoft terracotta. There is nothing plain about the hotel. There is a great deal of decoration made from glazed terracotta as you can see both above and below.
It has always been one of Manchester's premier hotels and a plaque in the entrance way commemorates the fact that it was here that Henry Royce and Charles Stewart Rolls first met.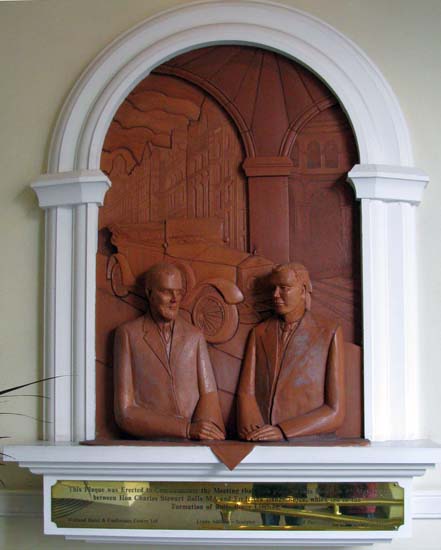 Above: an early photograph of one of the dining rooms in all its Victorian finery.
Below: The same dining room on an old postcard.

In its heyday the hotel had a palm court, an elaborate concert hall, a winter garden, both Russian and Turkish baths, and a roof garden.

23 lifts transported guests between floors and there were 400 bedrooms distributed along three and a half miles of corridors.

****************************

Central Station closed in 1963 so any role as a railway hotel was clearly irrelevant. The hotel has changed hands a number of times over the years. At one time it was a Holiday Inn Crown Plaza but today it belongs to the Q-Hotels chain.
The owners say this of the Midland: "Following a £15 million refurbishment, this grand establishment effortlessly mixes decadent glamour with four-star, twenty-first century sophistication. Fourteen suites and 298 en-suite bedrooms of award-winning design offer guests all the facilities one would expect in a hotel of this calibre."