The Langley Building - Princess Street
The Langley Building sits on the corner of Harter Street and Princess Street and in 2011 it is home to the Efes Taverna and the Peking Court Buffet. The building was designed by the architectural practice of W. Waddington and built circa 1895.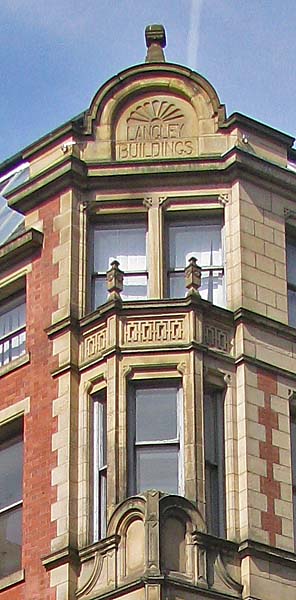 Like its neighbours, the Langley Building was originally intended to offer office and warehouse space and it seems that it has had multiple occupants throughout its life. The 1927 Manchester & Salford Directory lists among the occupants: J. H. Greenhow & Co. Ltd, merchants; Alfred Fox, merchant and Hudson & Bowring Ltd, tram car life guard makers. As tempting as it is to picture Manchester trams plowing their way through rain drenched streets with a lifeguard at the ready in case someone fell overboard, trams apparently came with a device called a life guard designed to prevent objects from falling between the wheels. It was a mechanism close to the front of the tram which caused a grill or scoop to drop down onto the road in front of the tram's leading bogie.
The ship's prow above the corner doorway reflects on the buildings mercantile function.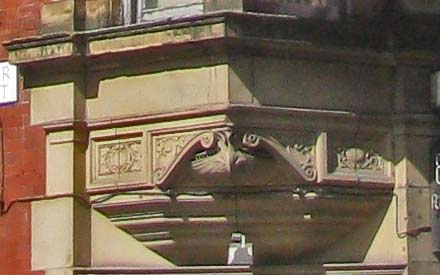 Close Window