Piccadilly Station
Above is a photograph of Manchester Piccadilly Station in 2008 and below is the same station in the 1980s. As you can see Gateway House is in place but this photograph was taken before the modernization that created what is generally regarded as one of the best station facilities in the UK.

Originally it was called London Road Station. It was built in 1842 for the Manchester & Birmingham Railway and Sheffield, Ashton-under-Lyne & Manchester Railway.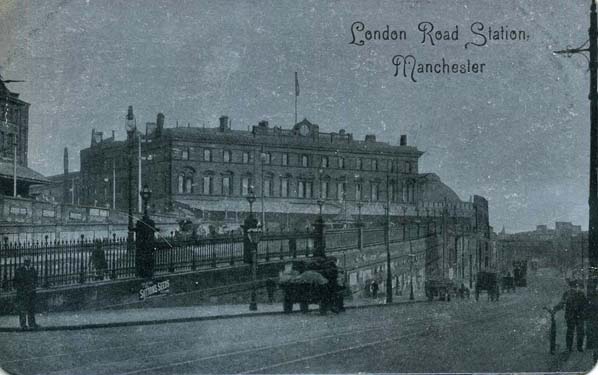 Below are two aerial images of London Road Station in the 1940s/50s shown with the generous permission of English Heritage.

1. London Road Station 2. Mayfield Station

1. London Road Station 2. Mayfield Station 3. Fire Headquarters

Outside of the station building, at the top of the approach ramp, there was a circular building that contained a staircase. This staircase allowed you to walk down to Store Street which runs below the approach ramp. Beside the round building there was an office building for the taxis. You can see both of these buildings in the image below taken during a period of reconstruction.



The image above was taken by Pauline Leech and generously donated by Chetham's Library.

You can see the buildings on the aerial photograph below. I have indicated them with a red arrow.

Below: An interior view during the steam era.


A lot has changed in the intervening 103 years including the name, which was introduced in 1960. By far the most obvious change has been the demolition of the old London Road Station building and its replacement by an ultra modern station. This was done in two stages. Below are two images, shown here with the generous permission of Ben Brooksbank, that show the work underway to modernize the station in the 1960s.



Today Piccadilly is one of three main stations in Manchester, handling over 55,000 passengers and 1,000 train movements every day. It is the northern terminus of Virgin's flagship route to London and offers direct services to other major UK cities, including Glasgow, Edinburgh, Birmingham, Cardiff and Norwich. In what was the undercroft of the station there is now a terminus for the Metrolink tram system with routes out into the suburbs and a connection to Manchester's other major station at Hunt's Bank, Victoria Station.

Around and beneath the old London Road Station there were extensive facilities for the handling of goods. While the facade of the Goods Office has been preserved on London Road, a major reconstruction on London Road and Fairfield Street has created a new entrance to the station and a new taxi rank.
Car park beneath the station approach ramp.
Today in addition to Virgin Rail the railway companies using Piccadilly include: Arriva Trains Wales, CrossCountry, East Midlands Trains, First TransPennine Express, and Northern Rail.
Inside Piccadilly is now a fully modern, state of the art, light and attractive transportation hub to rival any in the country.